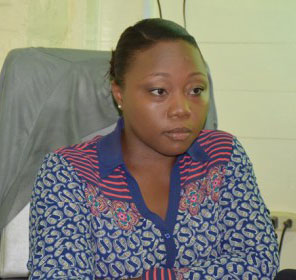 In wake of the recent armed attack on a Cuyuni mining camp, where over two dozen miners were robbed, President of the Guyana Women Miners Organisation (GWMO) Urica Primus says she is hopeful that the resuscitated Hinterland Intelligence Committee can put measures in place to protect miners against the feared "Sindicato" gangs reported to be operating here.
Speaking to Sunday Stabroek yesterday, Primus said that the organisation's members  as well as other miners working in areas close to the Guyana/Venezuela border have been expressing concerns about the presence of the gangs since the middle of last year.
The intelligence committee, which comprises a number of stakeholders, was set up by government to address security issues in hinterland areas. The GWMO received a formal invitation recently to attend a committee meeting, which is scheduled for later this month.
The GWMO at the moment has approximately 40 members working in areas along the border.
"As it is, people traverse the border back and forth and people don't know who is who or have the right to stop anybody," Primus said, while stressing that the protection of miners, particularly in areas in the Cuyuni as well as Port Kaituma, Matthews Ridge, and Baramita in Region One, is of great importance.
She said that the best advice the organisation can give to miners is to make the best efforts to refrain from keeping high production in camps and travelling at nights. Primus recalled that last July, while executing a Trafficking in Persons (TIP) project in Region One, the GWMO was informed that two miners were robbed of their ATVs while navigating a trail in a backdam, where they were tied to a tree.
She added that despite the circulation of a video purportedly of a local miner being beheaded, the organisation is yet hear about measures to be put in place to prevent a reoccurrence and to protect miners. That incident, she said, should have been an eye opener for the relevant authorities and should have led to the instantaneous identification and subsequent implementation of protective measures.
Primus stressed too that there is no emergency arrangement in place for miners to access help if they are under attack.
"How do we get an emergency response if something happens? There is no 911," she said, while questioning what the small miner is to do if the Sindicato gangs attack.
A group of gold and diamond miners operating in the Cuyuni area in March appealed to government and military to provide protection, saying that the gangs were terrorising them.
The miners, in an ad which was published in this newspaper, explained that a gang had established a camp about three miles below Eteringbang on the Cuyuni River and had been stopping all boats, Guyanese and Venezuelan, transporting fuel and rations to mining camps and demanding gold and cash.
"This Sindicato Gang is heavily armed and would fire at our boats if we do not stop. They also have boats and would drive up behind us if we do not stop," the miners had stated.
According to the ad, another gang had set up a base at Butanamo, about twenty miles further down the Cuyuni and it was also engaging in similar attacks.
The police then had acknowledged that it had received information about the presence of the gangs and said that patrols had spotted men on the Venezuelan side of the river. It could not be established whether the men were Venezuelan soldiers or members of the Sindicato gangs. 
The following month the Parliamentary Oversight Committee on the Security Sector, led by Minister of Public Security Khemraj Ramjattan, visited several border communities in Region One. That visit was preceded by a trip by President David Granger to the area, where he outlined a frontier villages' policy.
The Guyana Defence Force (GDF) and the Guyana Police Force had also mounted visits by senior officers to the area as part of an approach which included citizens, the Guyana Gold and Diamond Miners Association and the Ministry of Natural Resources' core of wardens in an attempt to address the security situation.
The Guyana Police Force said in a media release on Friday that 28 miners were robbed at a mining camp at Baboon Backdam, Cuyuni River, last Wednesday. The attack was carried out between 7 pm and 12 am by four masked men armed with a rifle and shotguns. They were reportedly outfitted in dark-coloured clothing and spoke a foreign language.
A quantity of raw gold and other valuables, including a licensed shotgun, were carted off. None of the workers, who are said to be employed by a camp owned by Mohammed's Enterprise, were injured.
The police release came on the same day that the GDF said that it had briefed parliamentarians on an operation launched in wake of allegations of the criminal activities on the western border by members of the foreign criminal gang.
In a statement, the GDF said Chief-of-Staff, Brigadier Patrick West, along with a team of officers delivered a presentation on May 3rd, 2018 to Members of Parliament on the conduct of "Operation Armadillo," which has been ongoing since February 16th, 2018.
Around the Web