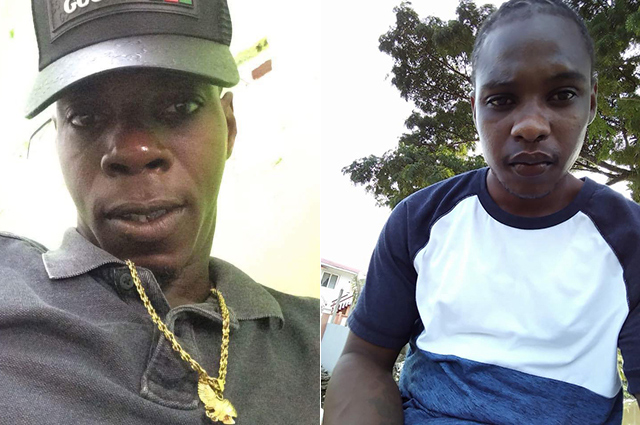 The family of Calvin Edwards, also known as Calvin Dover, one of the two suspected bandits shot and killed after they attempted to rob a city businessman on Friday, became aware that he chose a criminal path after his constant arrests and their relentless efforts to steer him away bore no fruit.
"It was a shock when they learnt that he was involved. That's why the family was relentless. In our family, we don't have a [criminal] history. We have never seen nobody in our family thief and that is why we were shocked, we wanted to know where he get this kind of mentality from," Wayne Dover, a cousin of the dead man, told Sunday Stabroek yesterday.
Edwards, 27, of Lot PP 6 Bent Street, Wortmanville, was shot and killed by police during a standoff in a house along Bent Street on Friday, where he allegedly sought refuge after managing to escape from the scene of the robbery.
He and Trevor Barrow, 26, called 'Buddha,' of 1010 Norton Street and Cemetery Road, were killed on Friday after they allegedly attempted to rob businessman Roy Myers in his store, Les Variety Store, located at 22, D'Urban and Hardina streets, Wortmanville, Georgetown.
Barrow was shot first by Myers in the store.
Myers told investigators that he was packing goods in his store when he felt a gun pressed against his head and a man ordered him to hand over the gold and diamond jewellery he was wearing at the time.
He had explained that as he was taking off his jewellery, there was a loud explosion outside of the store, which prompted Edwards, who was holding him at gunpoint, to run outside, while Barrow continued to try to relieve him of his valuables.
As a result, a scuffle ensued and Barrow reportedly pulled out a revolver and attempted to fire on the businessman but the weapon did not go off.
Myers, a licensed firearm holder, then retrieved his own weapon from an ankle holster and discharged several rounds, hitting Barrow.
As the police approached the store, Edwards ran out and discharged several rounds at them and the ranks returned fire. It was during the crossfire that Edwards was shot to his leg.
He nevertheless managed to flee the scene, with the police in pursuit and was found almost two hours later in a house along Bent Street, where there was another exchange of gunfire.
Police said Barrow was armed with a .38 Rossi revolver and two live matching rounds, while Edwards was armed with a Glock pistol and 10 live rounds.
This newspaper was told that one of the guns was stolen from a security guard attached to KGM Security Services in an early morning attack on Friday. Two Chinese nationals were also said to have been robbed in the attack.
'Pattern of behaviour'
Wayne said his family started to see a pattern of behaviour emerging with Edwards following his constant arrests. "It was at this point that we started to notice a pattern of behaviour that is not [representative] of being a humble, discipline or law-abiding person," he said.
"..We saw a pattern of behaviour and we started to talk to him. Everybody. Even my mother. And I could attest to the fact that actually everyday his mother does call my mother and ask my mother to talk to him or pray for him and all kind things," Wayne added.
He further said Calvin spoke to his mother before the alleged robbery attempt. "They had a normal mother and son conversation and she seh she ask he if he changing he ways and he trying to be out of trouble and thing and of course, you know they will say what they want they mother to hear to feel comfortable, not knowing he probably had that situation plan already," Wayne explained.
He said that Edwards was an adult and therefore made decisions on his own although his relatives tried to talk him out of the criminal life. "Well, actually, he grow very quiet, humble from birth through his teenage age [years] and then subsequently in his adult age we start to hear things about his behaviour pattern and then he had some brushes with the law, he went to prison on more than one occasion and stuff," he noted.
He said by then it was established in the family circle that Edwards was involved in "foolishness."
"So, then is when the family started to talk to him. Many of the family members started to talk to him about what we heard and you know what we actually start to know from hearing these things because of course we didn't see him in action but from the information and the fact that he was being locked up on a regular basis [for] robbery and all these things," he said.
Wayne said the family would was relentless in trying to get Edwards back on the right path. "Well, his mother [who lives overseas] was here during some of the times them that he had brushes with the law and she was like relentless on his case," he said.
He added that several members of the family are football players and they had expected that Edwards would have followed their footsteps. "We have a family background in football… and then he played a little bit and ended up swaying off into crime. I don't know how it happen, we can't say nobody lead him, we don't know if he had a criminal mentality during his growing up that mek him switch over so easy. We can't even seh, because we can't point to nobody to seh that this person lead he in that direction but it had to be his own will," he explained.
Despite Edwards' decisions, Wayne also expressed his concerns about the manner in which the man was killed. He said he is a strong believer in having criminal figures face the consequences of their actions in court.
He said, although he is not sure about the threat that Edwards might have posed to the police, he believes that the incident could have ended without him being fatally shot.
Around the Web