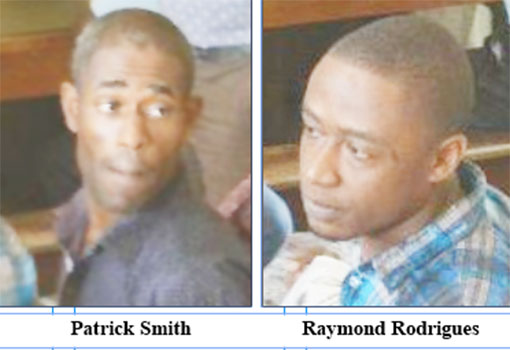 Two men were on Friday remanded to prison after they answered to two counts of armed robbery in a city court.
The first charge alleged that Patrick Smith and Raymond Rodrigues on May 9th at Princes Street being in the company of others and while armed with a gun robbed Bidramnauth Sooklall of $500,000 cash, a LG cellphone valued $45,000, a laptop valued $60,000, two wrist watches valued $26,000 and one other item valued $70,000.
It was further alleged that Smith and Rodrigues on the same date robbed another man of five gold chains valued $300,000, earrings valued $20,000, an iphone valued $300,000, $120,000 cash and other items.
Both men pleaded not guilty to the charges.
Facts in relation to the matter stated that the men along with two others went into the home of the complainants when they were sleeping, held them at gunpoint, tied them up and robbed them of all the articles mentioned in the charges.
Magistrate Leron Daly adjourned the matter until June 8th and remanded the men to prison.
Around the Web