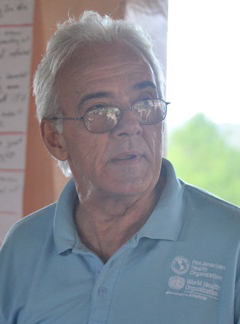 International consultant Dr. Mariano Bonet has praised the government and the Civil Defence Commission (CDC) for their disaster readiness plan.
According to the Department of Public Information (DPI), the Pan American Health Organisation's (PAHO's) consultant was speaking at a workshop for stakeholders following the hosting of successful simulation exercise in Mabaruma on May 12.
DPI reported Dr. Bonet as saying that the country is on the right path for disaster readiness. "What we have been doing together with the Ministry of Agriculture and the government of Guyana is something that is correct.
As the PAHO officer, I commend the government and the Ministry of Agriculture and the Ministry of Public Health because we really think what you are doing is right. The country is now preparing in the case of an eventuality – with regards to the surveillance system, we are working with the ministry and different sectors to prevent an epidemic and you know this is what we need in the country," Bonet said.
He has also congratulated the CDC and Government for improvements made over the last three years.
The simulation exercise held in the North West District tested the country's readiness to cope with an outbreak of foot and mouth disease or any other epidemic.
Around the Web