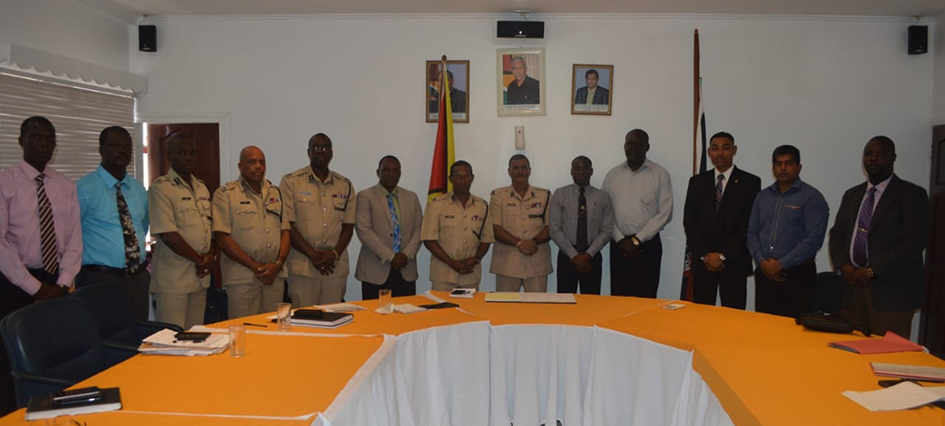 Senior police officials from Suriname are currently here to meet with local counterparts as part of the probe of the recent fatal attack on almost two dozen fishers off the coast of Suriname.
Public Relations Officer of the Guyana Police Force, Jairam Ramlakhan, in a press release yesterday, said that a team from Korps Politie Suriname arrived here on Sunday and is expected to depart today.
"This engagement was in connection with ongoing investigations by both forces surrounding the piracy attacks that occurred on 27th April, 2018 and 3rd May, 2018 involving Guyanese fishermen and boats in Suriname," Ramlakhan said.
The team comprises acting Head of Department for Major Crimes,  Senior Superintendent Roberto Prade; Investigation Department Chief Superintendent Erwin Dort; acting International Affairs Chief Deputy Superintendent Bryan Isaacs and Detective Sergeant Jayant Somai. They met yesterday met with Commissioner of Police (ag) David Ramnarine, Crime Chief Paul Williams, Assistant Commissioner and Commander of the Berbice Division Lyndon Alves and other senior ranks in the Commissioner's Conference Room, at Eve Leary.
During the visit, Ramlakhan said, the team will also engage with senior investigators from the Criminal Investigation Department and intelligence officers.
On April 27th, four boats carrying a total of 20 persons just off the Suriname Coast were attacked. It was reported that each boat was occupied by five persons, comprising the captain and four fishermen. The perpetrators, reportedly armed with guns and cutlasses, chopped and beat the fishermen before robbing them. Some of the men were ordered to jump overboard with their injuries, while others were thrown overboard with batteries strapped to their legs.
Four men who survived the attack swam until they were rescued by passing vessels. Last week, another survivor was found. Four bodies have also since been recovered.
Authorities suspect that the April 27th attacks were a reprisal for the murder of Somnath Manohar, a boat owner who was killed in a drive-by shooting in Suriname on March 30th of this year.
Ravikant Premcharan, a 23-year-old Surinamese policeman, was also killed in what is suspected to be an act of revenge for the attack on the fishermen.
Surinamese media had reported that Premcharan was found dead in a vehicle on Passiebloemstraat in Paramaribo, Suriname on May 13th. Premcharan was shot and stabbed about his body, confirming that his death was not a suicide, as initially suspected by authorities in Suriname.
Manohar's brother, Nakool Manohar, 39, also known as "Fyah," was recently charged here with committing pirate attacks in 2015 and 2016. He was remanded to prison.
A close associate of Manohar was also arrested at his home by ranks of the Criminal Investigation Department's Major Crimes Unit after the description of the boat which was used to carry out the attacks on the fishers matched his.
However, he was subsequently released on $1 million station bail as there is no concrete evidence linking him to the attacks.
Around the Web