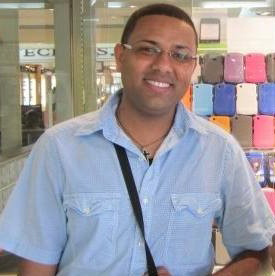 The body of a Guyana Goldfields Inc manager, which bore several suspected stab wounds, was found on Monday night at his Thomas Street, North Cummingsburg, Georgetown apartment.
Neil Whyte, 42, whose address was also given by police as Adelaide Street West, Toronto, Ontario, Canada, was found nude and bound on a bed in the apartment he occupied at Lot 258 Thomas Street, North Cummingsburg.
An ex-employee, who had visited Whyte shortly before he was found, has since been arrested.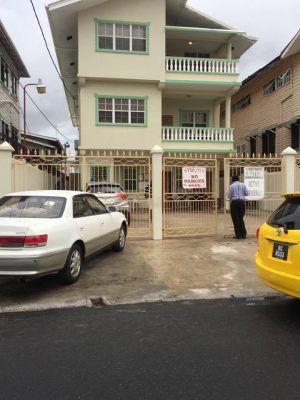 The police, in a press release that was issued yesterday, said that the murder occurred between 10.22 pm and 11.45 pm on Monday.
It noted that Whyte's body bore several suspected stab wounds, including to his neck.
The 25-year-old suspect, who has been identified as Arif Alli, was arrested around 6.30 am yesterday at his Vryheid Village, West Canje, Berbice home.
Whyte occupied the upper flat of the three-storey building, which is located south of Prashad's Hospital.
Stabroek News was informed that Whyte returned from the interior – where the gold mining company is based –  on Monday and was last seen in the company of Alli, who visited him and subsequently left with a black haversack.
A security guard, who had gone to check on Whyte after sensing something was amiss, later found his body.
Stabroek News was told that the security guard related to the police that around 10.22 pm, Whyte came downstairs and told him that he was going to pick up a friend at the corner of Thomas and Middle streets.
He later returned with Alli and they both went into the building.
About one hour after, the guard reported seeing Alli leaving after informing him that he was going to pick up something.
Alli then proceeded to walk to the junction of Thomas and Middle streets, where he joined a car that headed east along Middle Street.
The guard told the police that it was protocol that visitors must be checked out of the building by the guests.
However, since this was not applied in this situation, he decided to venture upstairs and check on Whyte. It was then that he made the discovery.
He immediately informed his superiors, who contacted the police.
A wet towel, suspected to have been used by the suspect, was retrieved from the crime scene.
When Stabroek News visited the scene yesterday, investigators had returned and were obtaining statements.
Administration and Human Resources Manager of Guyana Goldfields Inc Peter Benny, who was present at the scene, told reporters that Whyte's death has left him in a state of shock. Whyte had been a supply chain manager for the Canadian company, which operates the Aurora Gold Mine.
When asked if there had been any breach in the security protocols, Benny said that the security force which monitors the premises is currently working along with the police in the investigation. He said whatever the outcome is, "whether there is a need for improvement or whatever," will be looked into.
Benny did not divulge much information. He, however, noted that at this point in time, the company is trying to render as much support as it can to the family and colleagues of Whyte.
Benny said that although Whyte had been employed with the Aurora Gold Mine only last year, he had known him for 20 years. "He will be surely missed… it was indeed a shock to us," he said.
"Neil Whyte has been one of our most valued employees… He is a very talented person. As the supply chain manager he has done an excellent job in increasing and improving our efficiencies. He was passionate about supply chain. He's very well organised and very well respected among his peers and employees," Benny added.
Around the Web