A Herstelling, East Bank Demerara man is now in police custody after witnesses say he drowned his estranged wife in a community drain on Monday evening.
The police say witnesses saw Lowtie Atwaroo, 32, called 'Mona', of Lot 1221 Plantain Walk, Herstelling, New Housing Scheme, being submerged in the drain by the suspect but she was motionless by the time they went to help her.
The suspect has been identified as Daniel Watson, 38, a labourer, from whom Atwaroo had separated.
Atwaroo and Watson lived together in a common-law relationship for a number of years. However, the woman ended the relationship about two months ago due to his abusive behaviour and went to her father's house.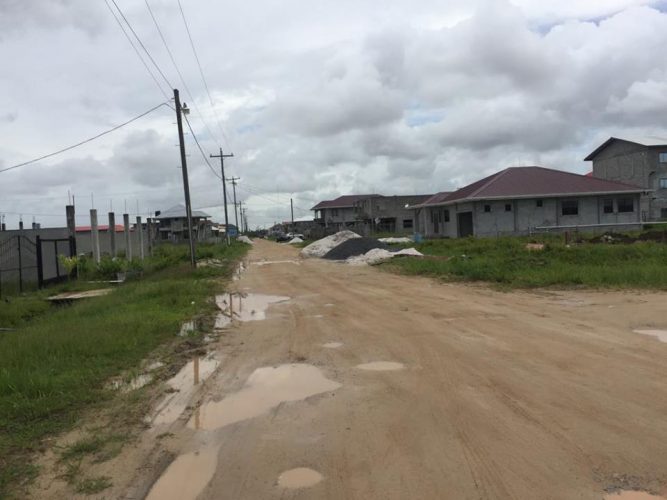 Police spokesman Jairam Ramlakhan, in a press statement yesterday, said Atwaroo went to the suspect's house around 8.30 pm on Monday and shortly after she was seen being submerged in a drain by the suspect.
"By the time eyewitnesses went to render assistance, she was discovered motionless," the statement said.
Watson fled the scene but was subsequently apprehended.
Investigators are currently in possession of several statements from persons who witnessed the crime, the police added.
Stabroek News was told that Atwaroo was last seen alive by her father and brother when she left home to visit Watson.
Eyewitnesses reportedly related to the police that they were home when they heard a woman calling out for help.
As a result, they checked and saw Watson, who is known to them, holding down Atwaroo in a drain located some 50 feet away from their home.
The witnessed reportedly shouted at Watson as they approached him and he ran away. Upon rushing to render assistance to Atwaroo, they discovered she was motionless.
There were no visible marks of violence.
When Stabroek News visited the area yesterday, relatives of the suspect did not want to speak about Atwaroo's death.
A cousin, Asha (only name given), said she was at home when she learnt of what happened through Facebook.
"I see Daniel Watson and I see she name, so I keep calling his phone but I didn't getting no answer. So, I went to call his sister and she said she calling and she ain't getting he phone too, so she panic. So she called his brother and when he went out to the station, they said yes, it's him," Asha said.
Asha described the relationship between Watson and Atwaroo as "up and down."
"She always go and come. Every time she mek a problem, she does run to the station with she mother. The last night she mother bring detective and thing," she said.
While efforts to contact Atwaroo's relatives proved futile, several residents of the area also indicated to this newspaper that the couple had a lot of domestic problems and the conflicts continued even after Atwaroo left the home.
One neighbour said she only moved to the area a couple months ago. However, she said in that time there were several instances where Atwaroo turned up at Watson's house and verbally abused him.
Just two weeks ago, the woman said, Atwaroo turned up at the suspect's house while he was not at home and broke his windows. "The other day she come and tek a spade and lash down all the window in the house. So we call he and tell he 'Bai this girl lashing down all yuh window. Get the police and come'. He did deh Parika side, by he mother," the woman said.
She said by the time Watson arrived with the police, Atwaroo had already left. He subsequently replaced the windows, she said.
"She lash and she holler, 'Daniel, jail fuh me. Daniel, I going to jail,'" the woman related.
The woman further explained that recently Atwaroo had also visited her and other neighbours to borrow a hammer but they refused to lend her. "Everybody know how she stay, so nobody nah want lend she. Now she go and tell she mother that she come by we and ask for hammer and so and we ain't lend and the mother come and 'buse we,'" she added.
The neighbour added that her husband talked to Watson about the situation and advised him to avoid getting involved. "Me husband always warn he. He does seh, 'Bai, if yuh hit duh girl, yuh going to jail. Leave her. Don't lose faith. He does seh 'No uncle,'" she said.
On Monday evening, the neighbour said Atwaroo was in front of Watson's house, cursing him loudly. "She come last night (Monday) and cuss the bai again about he mother. Now the bai deh inside and she deh pun the street," she noted.
She said eventually Atwaroo left and she saw Watson go into his house. Later in the evening, the woman said they were alerted by loud knocking on Watson's door and a voice saying "Open the door" continuously.
"Suh me get up and peep and meh tell me husband `look police. Like this girl went and get police on this boy'", she recalled, while explaining that she later learnt that Atwaroo was dead and Watson was being arrested.
The villagers described Watson as a very hardworking and quiet individual.
Around the Web