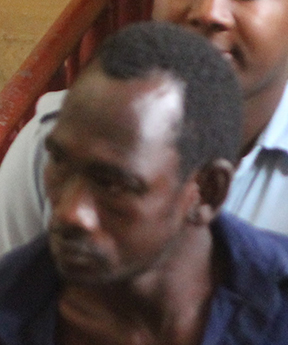 A man was on Monday charged with chopping a tormentor to the head after he reportedly provoked him.
Sherwin Wilburg, 37, was read the charge by Principal Magistrate Judy Latchman in Georgetown.
The charge stated that on May 17th, at Cemetery Road, Wilburg unlawfully and maliciously wounded Sherwin Pilgrim with intent to maim, disfigure, or cause grievous bodily harm.
Wilburg pleaded "guilty with explanation" to the charge.
Wilburg then stated that he often has fits and that the complainant frequently provokes him.
He added that on the day of the attack, Pilgrim attacked him with a cutlass and chopped him on one of his hands, while he in return chopped Pilgrim to his head.
Magistrate Latchman subsequently changed his plea to not guilty based on the explanation he gave to the court.
Police prosecutor Arvin Moore made no objection to the accused being granted bail. He told the court that on the day in question Pilgrim was provoking Wilburg, causing him to pelt him [Pilgrim] with a bottle. Moore noted that Wilburg then left the scene and returned with a cutlass and fired a chop to Pilgrim, resulting in him sustaining a laceration to his head.
Magistrate Latchman later granted Wilburg his release on $100,000 bail and adjourned the matter until June 18th.
Around the Web