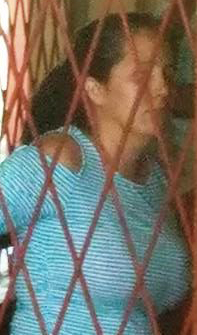 Venezuelan national Angelica Malave, who was charged earlier this year with aiding in the trafficking of 11 kilogrammes of cocaine uncovered during a bust in January, was yesterday cleared of the crime.
The charge against Malave alleged that between September 1st, 2017 and January 2nd, 2018, she aided Gavin Adams and Yeison Sanchez to traffic the 11.410 kilogrammes of cocaine.
Adams, a carpenter and farmer of Grant Woodland, Pomeroon, was accused of trafficking 11.410 kilogrammes of cocaine between September 1st, 2017 and January 2nd, 2018.
Meanwhile, Sanchez and five others, including Malave, were charged with aiding in the trafficking of the said drugs.
Subsequent to submissions being made by both defence attorney Bernard Da Silva and Customs Anti-Narcotic Unit (CANU) prosecutor Konyo Sandiford, Principal Magistrate Judy Latchman yesterday dismissed the charge on the grounds that there was insufficient evidence in the case.
During her first court appearance, Malave, of Caracas, Venezuela, was also charged with overstaying in the country by 53 days. She had pleaded guilty to the charge and was fined $30,000.
The drug bust was made after a raid was conducted at Barrow Street, Republic Park, East Bank Demerara.
Stabroek News was told that 10 blocks of cocaine, with an estimated street value of US$350,000, were found during the bust.
Three speed boats and engines, a car, 11 mobile phones and a quantity of foreign and local currency were found in separate raids at a residence in Republic Park and a residence in the Pomeroon.
The National Anti-Narcotics Agency subsequently stated that the currencies amounted to US$87,134, 1,081,605 Venezuelan Bolívars, 201,000 Colombian pesos, 7,362 Brazilian Reais, and $82,820.
Around the Web