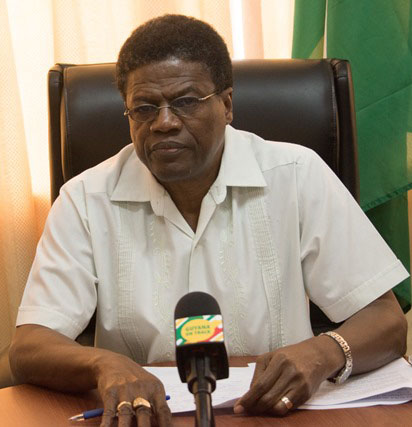 Chief Executive Officer of the National Drainage and Irrigation Authority (NDIA), Frederick Flatts says recent criticism of the Friendship Pump Station attributed to Charles Ceres of Ground Structures Engineering Incorporated (GSEI) are a case of sour grapes.
Ceres, a local engineer was quoted in the May 22 edition of the Guyana Times as declaring that the drainage pump constructed at Friendship- Vigilance on the East Coast of Demerara was a failure because piles were used in its foundation.
Flatts told the Department of Public Information that GSEI which is owned by Ceres was hired to provide geotechnical data for the construction of the pump station. Flatts said that his recommendations were contrary to those of British designers Mott McDonald who recommended timber piles be used to prevent uneven settlement.
"That pump station was designed by Mott MacDonald, an English consultancy firm. They proposed using timber piles in the foundation. However, they were not able to recommend the length of piles because we did not have geotechnical data. As a consequence, we hired a consultant, Ground Structures Engineering …, to do a geotechnical survey. We did get a response from that consultancy with the geotechnical data. It was also recommended by that consultancy that piles were unnecessary, and reasons were given," Flatts said.
The CEO added that the use of piles was in keeping with age-old practices which have proven effective. The additional cost he said was minimal considering the stability the piles will provide and the type of pumps being used.
"The type of pump we are using is the vertical axial flow pump and it is very critical for those shafts to be very vertical and any slight departure from the verticality would cause problems. So, to ensure that the structure would not settle, we used 25 piles. The total cost was $4.95M the overall cost of the project was $239.9M. The cost of the pile was just 2 percent of the overall cost. Personally, I would say that the project is not a failure because we spent five million more than somebody thinks. $5M in $240M is not much", Flatts told DPI.
He added "I am disappointed that a consultant will use the information he gained from working with us to go public and make a criticism, perhaps, because his advice was not taken".
The NDIA CEO assured that the piles used will guarantee the structure's stability. He said the new station will aid in the drainage of the Vigilance and Friendship areas on the East Coast.
Around the Web