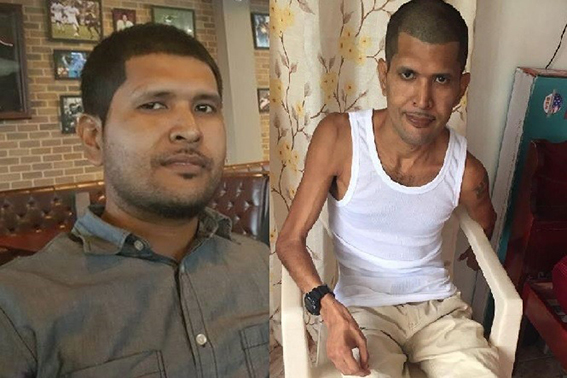 The family of Rene Stoby, 34,  is still working to accumulate funding for the former sports journalist to travel overseas for medical treatment for the mystery illness which has plagued him over the last two years.
 Stabroek News had reported on the family's plight two Sundays ago after Reuben Stoby, Rene's older brother set up a GoFundMe account in his name in the hope of raising the necessary funds to have his brother seen by specialists, at the Johns Hopkins Hospital in Maryland, USA, who have expressed a willingness to see him and possibly come up with a diagnosis/treatment.
"We have been in communication with Johns Hopkins Hospital in, USA, and they have expressed a willingness to see him and possibly come up with a diagnosis/treatment. The costs for initial consultations with the ALS and Movement Disorders teams and initial tests will be around US$10, 000," the older Stoby wrote.
 Rene, who had been previously employed by the National Communications Network (NCN) and the Guyana Times, has for the past two years been battling a mysterious illness which has severely affected his ability to speak and walk.
His brother, Reuben told Stabroek News the family has since been able to raise almost US$3,000 of the required total of US$10,000, through donations from members of the public.
"Since we made Rene's condition public, many persons have reached out to him and the family with words of encouragement, prayers and some have offered monetary assistance. One person from the US even offered to send him some supplements. Both individuals and a couple of corporate entities offered financial assistance, however, we have just managed to raise close to three thousand US dollars. Still a bit to go, so it is the hope that persons would continue to support as time doesn't seem to be a luxury we have," Rene's brother shared.
 In response to questions asked regarding the possibility of approaching the Ministry of Public Health for assistance, Reuben said that they are awaiting an official letter from John Hopkins Hospital in order to approach Government for assistance.
"So far Rene has been grateful for the support received and touched by the many caring persons who have reached out in one way or the other, some of them who never knew him but were moved by his condition. We hope that all this would give him the strength and courage to keep fighting while we desperately seek to get him the urgent medical attention he needs," he added.
Reuben also asked that persons who are desirous of making donations through Republic Bank, can do so to the account in their mother's name, Joanie James.
 He explained that because Rene is not able to use his hands, he cannot sign bank documents and as such, a decision was made to close his account two years ago. Reuben noted that they had encountered an issue where persons who went to the bank and asked for Rene's account were unable to make deposits.
 Reuben said that the issue has since been resolved and that those who wish to donate through Republic Bank can ask for James' account or use account number, 515-975-1.
As previously reported, Rene's ordeal began when he started experiencing muscle spasms which initially slowed down his mobility and affected his speech. These spasms were said to have been extremely painful and affected his left arm which started to fixate in an almost right angle position.
Doctors were baffled by Rene's condition, but subsequently diagnosed the condition as Parkinson's disease, Dysphagia, Hypophonia, and then ALS or Lou Gehrig's disease.
However, in July 2017, Rene was seen by doctors at Montefiore Medical Center in New York and after two weeks of testing and medical observation, both Parkinson's disease and ALS were ruled out. The medical experts were still not able to make a specific diagnosis even as Dystonia was suspected.
 Rene has since lost the ability to walk properly on his own, has completely lost the use of his left arm, and his speech is now completely gone.
He still maintains cognitive brain functions and is able to communicate via text and WhatsApp messages. Nevertheless, his condition continues to deteriorate, worrying his family more with each passing day.
Persons interested in making a donation can do so by donating directly to the GoFundMe account online at https://www.gofundme.com/raising-for-rene or Republic Bank Account: 515-975-1.
For further information, persons are asked to call: 592-697-8322 or 592-663-2918.
Around the Web