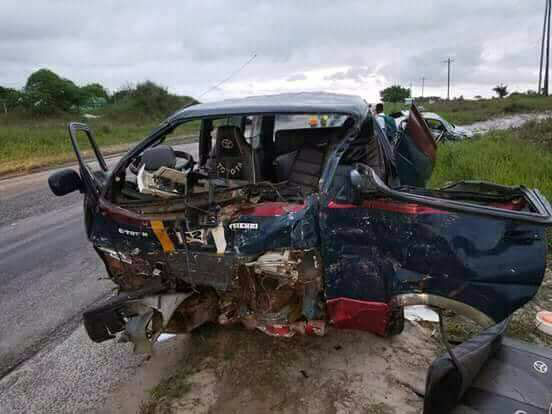 A fourth person succumbed last night as a result of the horrific collision at Kuru Kururu, Linden-Soesdyke Highway on May 13.
The police today said that Rookmin Persaud, 40, of Kaneville Squatting Area, EBD who was a passenger in the minibus BHH 8451 succumbed to her injuries at around 11.30 last night.  Persaud's husband, Prem had also been injured in the accident.
Two Fridays ago, Shenella Hughes, the driver of the car, PMM 548, which had collided with a Route 42 minibus, BHH 8451, succumbed in the Intensive Care Unit. Her death came a day after Quinton Odle, 42, a seaman of 137 Blankenburg, West Coast Demerara. Hughes' six-year-old daughter, Arianna Hughes had been the first fatality from the accident.
Around 5.30 pm, two Sundays ago, the car and the bus, which were travelling in opposite directions, collided, resulting in the occupants of both vehicles sustaining injuries. It is alleged that Shenella was driving at a fast rate, and as the vehicles approached each other, she drove into a pool of water, resulting in her losing control of the car and swerving into the path of the oncoming minibus.
Stabroek News was told that the passengers in the bus were returning from a Mother's Day outing at one of the creeks along the Linden-Soesdyke Highway.
Around the Web