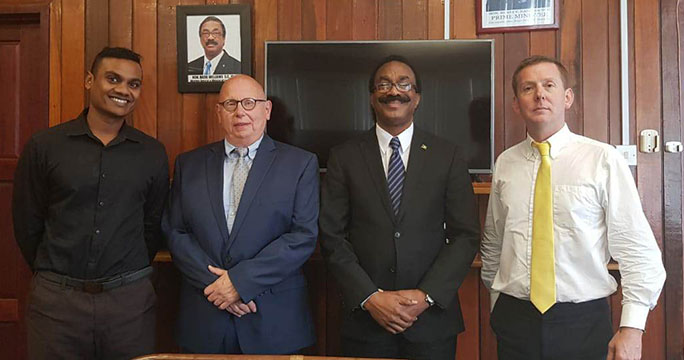 On Wednesday, at the Ministry of Legal Affairs,  Attorney General, Basil Williams SC, met with John McKendrick and Keith Peterson, Consultants, contracted under the Support for the Criminal Justice System Programme, to discuss issues pertaining to overcrowding at the prisons.
A release yesterday from the Ministry of Legal Affairs said that arising from those discussions were a pilot project to provide legal aid to persons accused of minor, non-violent offences in pre-trial detention.
The release said that the project also entails training activities which seek to strengthen legal representation skills among Non-Governmental Organizations and other aid providers.
The project may utilise supervised paralegals to provide support in various legal aid tasks in prisons and police stations. Those identified are seeking dismissal of charges  or arguing for bail and generally avoiding procedural delays.
In addition, the discussions included the implementation of a more pro-active use of alternative sentencing by the criminal justice system.
The release said that the Government may consider having prisoners referred to a rehabilitation facility for specified treatment. To this end, a study is being carried out on the appropriate treatments of substance abuse and mental health issues.
Around the Web