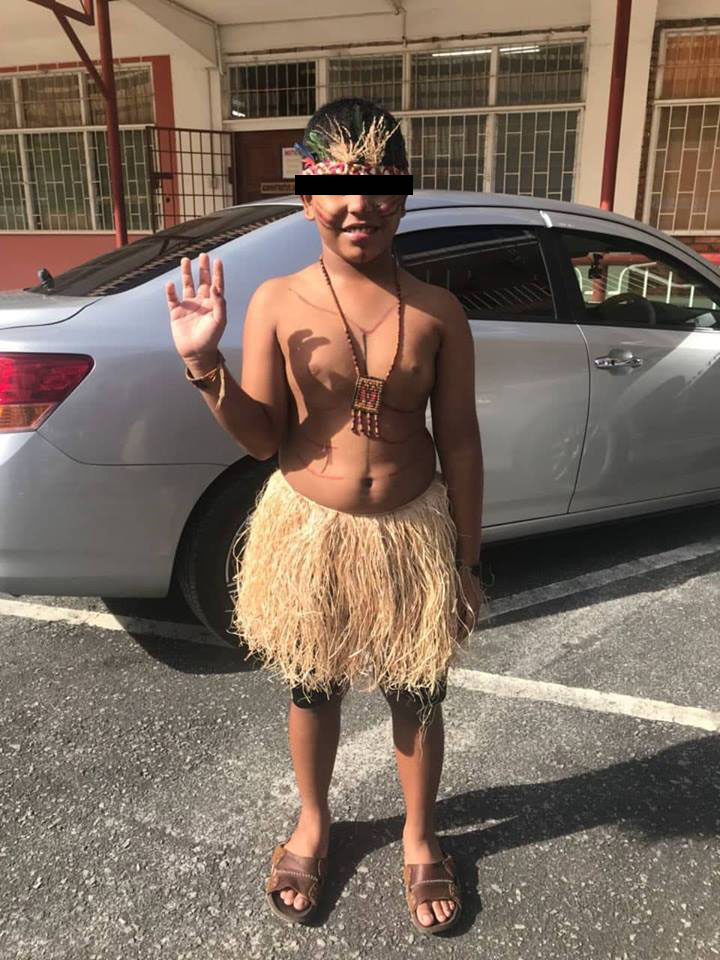 A Mae's Schools student was left traumatised yesterday after his indigenous wear was deemed inappropriate by teachers at the school and he was mocked during the day by fellow students.
Karen Small told Stabroek News that she received a letter from the private city school informing her that it would be celebrating culture day to coincide with Independence Day today and that her son, who is nine, would be allowed to don cultural wear depicting an ethnic group of his choice.
"He chose, because his father is Amerindian, to dress like an Amerindian based on what he sees. He's accustomed to these clothing and I decided to dress him and paint him up," Small said.  The child wore a skirt made out of tibisiri with underpants. He wore no shirt and sported a beaded chain and a decorated head band.
Small said that the day was going well and her son was very happy dressed in his Amerindian wear as he was on his way to school. However, the boy's excitement and happiness faded after he was initially not allowed to enter the school's compound.
"He doesn't go out anywhere without clothes, so for him to come out like that and support his culture was a proud moment because his father is always telling him to be proud of his heritage and culture," Small said.
She explained that when he arrived at school, the guard told the child that he was not allowed to go in because he was dressed inappropriately since he did not have a shirt on. Small said that she told the guard that it was not inappropriate since it was authentic cultural wear that he was wearing. The guard subsequently enquired from two teachers who were in the vicinity who refused to answer and started to laugh instead.
"Nobody gave permission to go upstairs but by the time she was discussing with them I decided this is so wrong because this child already feeling bad and you could see the tears in his eyes," Small said, while pointing out that when her son reached his classroom, he was told by a teacher that he was dressed inappropriately and would need to put a shirt on.
"I asked why it's inappropriate and the teacher said it's because he's in school and he's not supposed to dress like that. By that time I was disappointed and he was saying how he hates how he look and that he looks stupid. The child left home happy and by then he was beat down to that," Small stated.
She said that she put a shirt on her son and left him at school for the day. It was to her surprise that when she went to pick him up from school he was no longer wearing his Amerindian garb. She said that he related to her that he was teased throughout the day and chose to change.
Small noted that she then took the matter to the head teacher of the school, who also related to her that the way her son was dressed was inappropriate.
"The hurtful part was when I picked him up from school and he (had taken off) every single piece of Amerindian wear he had on. This is just wrong. You might as well tell them to wear culture wear except for those from the Amerindians. It didn't say what he should not wear and the letter didn't say anything of what he shouldn't wear," the woman added.
Around the Web