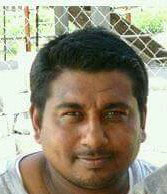 A Nonpareil, East Coast Demerara taxi-driver is currently admitted at the Georgetown Public Hospital in an unconscious state after he was struck down while going home on Wednesday night.
Hawaz Hussain, 38, who works from a base in Enmore, was returning home on his bicycle around 10 pm on Wednesday when he was struck by a bus. The bus driver then fled, leaving Hussain lying on the road for several minutes before he was rescued and rushed to a hospital.
A cousin of Hussain, Sabrina (only name given), told Stabroek News that he would usually return home after his shift ends at 10 pm.
"He started the job last week Thursday or Friday, I think, and he bought a bicycle so he could go to work and return back home. He was on his way home from work when this vehicle hit him and leave him there to die and gone," the woman said.
She added that from the information the family was able to gather, Hussain was riding east along the Melanie Damishana Embankment Road when the accident occurred.
"All we understand is that it was a bus. One of the residents heard the impact and they said when they look out they saw the bus come down to the parapet corner and then shoot through with a speed and that's all they remember. He was on the left hand side of the road riding, coming home, because people saw him on the road the same night coming home," the woman added.
Hussain was rushed the hospital by a police officer, who was passing and rendered assistance.
He is currently at the Georgetown Public Hospital in an unconscious state. According to the man's relative, he
suffered severe injuries, including to his head.
Sabrina added that her family is in constant contact with the police to offer any assistance it can to find the driver of the bus but they have not received any solid information since.
"When I get to understand it was a minibus, I call the station and I inform them because from the hospital we went back to the crime scene to find out from residents because they [police] apparently didn't. I'm not sure how they are taking the investigation right now," she said.
The woman also explained that they only found out that Hussain was in an accident after the policeman who assisted him found his cellular phone lying on the ground and called one of the numbers he had recently dialled.
"You don't hit somebody and drive away. That's so cruel," the woman said, while stating that anyone who has any information on the accident and the driver's whereabouts can contact the nearest police station.
Around the Web