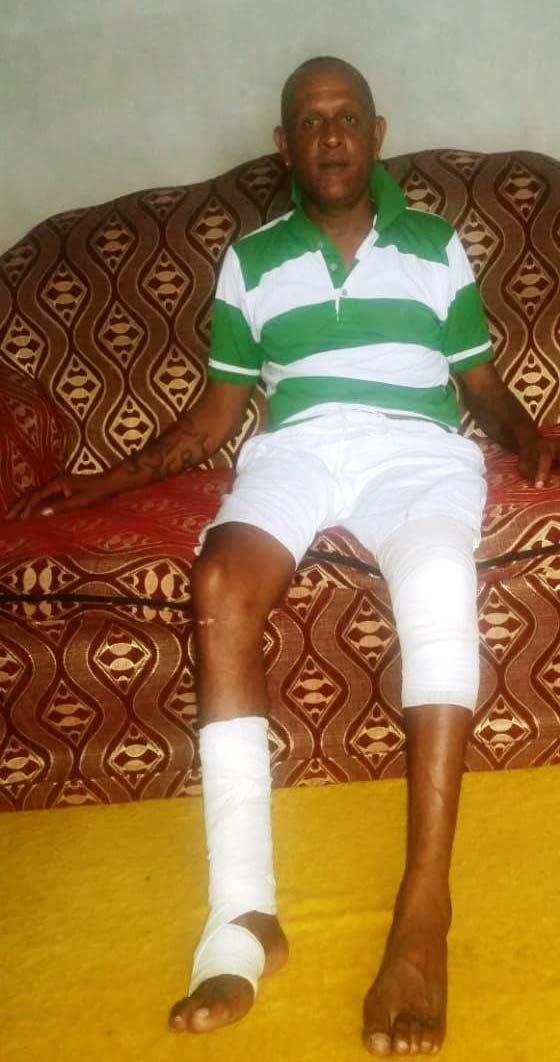 Months after being involved in a horrific fatal accident at La Parfaite Harmonie, West Bank Demerara, the driver of minibus BTT 3118, Ramkumar Persaud is trying to return to a life of normalcy.
Persaud, 42, of Lot 3909 Westminster, La Parfaite Harmonie, suffered broken legs at the knee and shin, in the February 3rd accident on the La Parfaite Harmonie Access Road. Following the accident, he has been at home on bed rest, unable to work to provide for his family. 
The dreadful accident claimed the life of Alana Ramsarran, also known as Alana Da Silva, a trader of Schoonord, West Bank Demerara, and a mother of one, who was at the time driving motor car, PWW 972.
When Stabroek News visited Ramkumar's home recently, he was not at home and his wife, Pasty Persaud explained that for the past four months they have been assisted by family members, and recently they started to supplement their income by retailing chips made from cassava, sweet potato and plantain, along with chicken foot. She stated that over the past few months, the family has found it challenging.
"It was tough for us. I would stay home with him because he could not have done anything for himself. We used to have to help him move about. When I was home alone, I used to ask persons passing on the road to help me lift him…," the wife recounted, whilst noting that a daughter has moved back home to assist.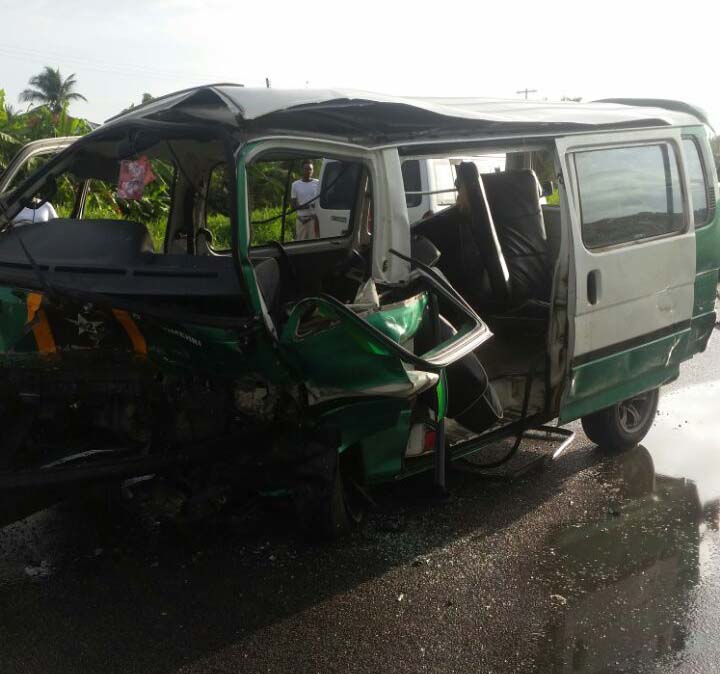 However, he is now trying to move around on his own with the aid of a pair of crutches, and the wife noted that she is happy he is able to assist himself. During the initial stages of the injury, she explained that they had to remove the plaster of paris splints since he had suffered burns from the acid water in the minibus battery.
"We had to take it out because the burns were turning out and he is a diabetic and the burns were not getting to heal properly. The doctors quarreled, but we had to explain the situation," the wife added.
She stated that, on the day of the accident he was making his first trip to Georgetown and had picked up about ten passengers. At the time of the accident, this newspaper was told that the minibus was proceeding east along the Access Road, while the car driven by Ramsarran, was heading west.
Persaud told investigators that as they were about to pass each the car swerved suddenly into his path and they collided.
The other injured persons were identified as Roneta Paul, 36, of 267 Recht door Zee; Fizan Mohammed, 50, and his son, Safraz Mohammed, 24, of 172 Recht door Zee; Anita Mohan, 32, of Lot 72 Recht door Zee; Alvin Edmond, 59, and his wife Rhonda Edmond, of 206 Schoonord; Leon LaRose, 30, of 206 Onderneeming; and Alisha Allicock, 28, of 167 Onderneeming.
Ramsarran, the mother of a young daughter, is survived by her parents, siblings and a partner, all of whom reside in Lethem.
Around the Web