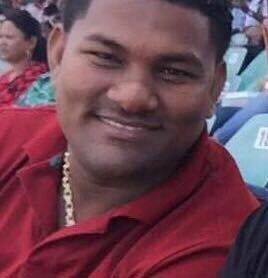 Former Attorney General Anil Nandlall says a decision by acting Minister of Public Security Winston Felix to send former SWAT Head Motie Dookie on special leave is illegal. 
What to do with the former SWAT Head who was implicated in whisky smuggling has seen fumbling by the police force and the government intervening to dispatch him on special leave `in the interest of the public'.
Yesterday, in a statement, Nandlall charged that Felix's action was illegal.
He said that whatever wrong Dookie is accused of, at a minimum, he is entitled to due process and protection of the law. He noted that Dookie holds the rank of Deputy Superintendent of Police.
"It is now public knowledge that Minister Winston Felix, acting for Minister of Public Security, Khemraj Ramjattan, directed the Commissioner of Police (ag.) David Ramnarine, to remove Dookie as head of the SWAT Unit and send him on `special leave in the public's interest'.
"Minister Felix , nor Minister Ramjattan , nor even the President, has any lawful authority to give such directions to the Commissioner of Police, nor do they have any authority whatsoever, over the employment, dismissal or discipline of Officer Dookie. The Constitution places that functional remit exclusively in the Police Service Commission. Article 212 of the Constitution provides that `…the power to make appointments to any offices in the Police Force of or above the rank of inspector, the power to exercise disciplinary control persons holding or acting in such offices and the power to remove such persons from office shall vest in the Police Service Commission'.
"Clearly, Dookie falls within the ranks provided for and contemplated by this provision. Additionally, Article 226 (1) provides that `…in the exercise of its functions under this Constitution, a Commission shall not be subject to the direction or control of any  other person or authority'", Nandlall argued. 
The Police Service Commission is still to be reconstituted.
Nandlall noted that the Government attempted before  by letter through Ministers to give directions to the Police Service Commission and the Public Service Commission.
"I challenged it on both occasions. Both Chief Justices Chang and George, ruled in my favour declaring such interferences to be unconstitutional. It is either that this Government is incapable of doing the legally right thing or they trample upon the Constitution intentionally and without any care or concern whatsoever!" Nandlall declared.
He added that the illegality which attends this matter is compounded by the fact that Dookie was not even heard before being imposed with the sanctions.
"So not only is the decision wrong on the ground that Minister Felix and Commissioner Ramnarine acted ultra vires and in violation of Article 212 of the Constitution, but the decision is contrary to the rules of natural justice. Mr. Ramjattan is a lawyer of long standing. He must recognise the travesty which has taken place. In fact, he expressed his disagreement with the decision but he appears powerless to change it. It is an utter shame", Nandlall railed.
He said that there is yet a third issue that makes the decision unconstitutional and noted that Ramjattan at a recent press conference, acknowledged that there are other senior officers who were implicated in alleged wrongdoings but they were not visited with the same or similar sanctions as those imposed on Dookie. Nandlall said that this makes the treatment meted out to Dookie discriminatory and contrary to Article 149 of the Constitution, which protects every citizen from discrimination.
Preferred
Ramjattan on Friday said that he would have preferred that Dookie remain on duty but will not overrule the decision made by Felix to have him sent on special leave while he was acting in his capacity.
"I would prefer him working, tell you the honest truth", Ramjattan told reporters during a press conference.
"The man gets a free salary and he ain't doing nothing because that is what special leave does, rather than him working even if you had to put him in the Canine section.", he said.
Earlier this month, Dookie was posted to the Police 'A' Division following his return from annual leave amidst the probe into whisky smuggling.
Following concerns raised about this move, he was then reassigned to Police Headquarters, Eve Leary a few days later.
However, on Thursday, Felix who was acting for Ramjattan took the decision to send Dookie on special leave with pay in the interest of the public.
Stabroek News had reported that then Acting Commissioner of Police and Crime Chief Paul Williams attended a high-level meeting last week Tuesday where a decision was made to have Dookie removed from 'A' Division and placed at the Force Control Unit, Eve Leary.
Dookie's placement was said to be temporary until a further decision was made about his future within the profession.
Ramnarine had confirmed the `A' Division placement and told reporters that Dookie could not find himself anymore "within four walls" since at this point in time, some five to seven senior officers, ranking from Superintendents up are currently on "long" annual vacation leave .
He had said the leave has been accumulated for a number of years and with a "change of policy" in terms of payment for leave they had to proceed on their annual vacation.
Further, Ramnarine had said that over the last two and half years, the Guyana Police Force would have also seen some 15 senior officers from the ranks of Superintendents to Assistant Commissioners exiting.
As such, he said, "Dookie being a Deputy Superintendent of Police … in the circumstances which the force has to be superintended on a daily basis couldn't find himself anymore within four walls".
He said that the processes which are available to the police administration in relation to the conduct of Dookie were adhered to. "He is entitled to due process. A part has been completed", he said.
This newspaper understands that concerns were expressed about these comments made by Ramnarine and this led to the reassigning to Police Headquarters and eventually the decision announced on Thursday for Dookie to proceed on special leave.
Stabroek News was reliably informed that Dookie will only face disciplinary charges in the police force as the driver of the minibus in which the discovery was made has since taken full responsibility for whisky smuggling.
Around the Web