With a new survey of prisoners finding that from an early age a significant amount of them were exposed to environments likely to nurture criminal behaviour, Public Security Minister Khemraj Ramjattan yesterday called for communities and civil society groups to work with the government to address the social ills responsible.
Ramjattan made the call during a  ceremony held at the Police Training Centre, Camp Street yesterday morning for the handing over of the final report of a Guyana Prison Service Inmates Survey.
The survey was conducted as part of the Citizen Security Strengthening Programme through collaboration with the University of Guyana, the Center for Latin American Studies on Crime and Violence, the National University of Tres de Febrero of Argentina and the Inter-American Development Bank (IDB). 
During his remarks, Ramjattan highlighted that the survey found that a number of inmates were exposed to criminal surroundings at early ages.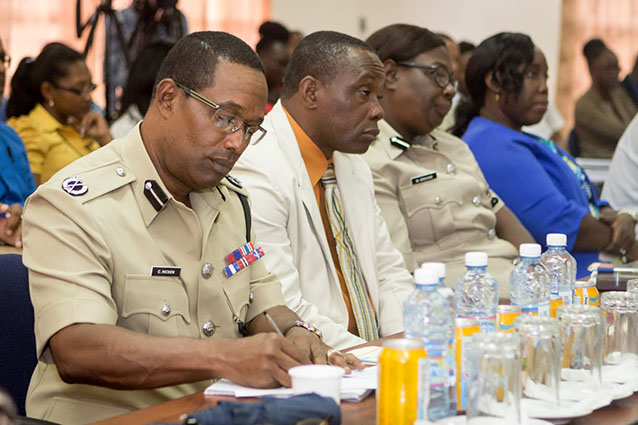 "One out of four inmates reported that their father or mother's partner beat their mothers. In four out of ten cases, the inmates' parents or adults with whom they lived as children drank alcohol frequently. One out of five inmates said there are gangs or members belonging to criminal groups in the neighbourhood where they lived as minors. Four out of ten inmates stated that they had a family member who had been sent to prison before," he noted.
As a result, Ramjattan called on society to work along with the government to prevent this.
"….Because many of the triggers of youth involvement in crime are within our society, there is a need for communities and civil society groups to work alongside government in correcting many of the society's ills that eventually criminalise our young people," he said.
The survey's findings, based on a survey of 696 inmates (653 men, representing a third of male prisoners and 43 women, representing half of the total female inmate population) also included that eight out of ten inmates had incomplete secondary education or a lower level of education. It also found that "a large share" of the inmates had a job when they were arrested, it was characterised by work overload and they were very precarious jobs. Almost half of the inmates reportedly said they had had their first paid job at age 15 or younger.
The survey also examined recidivism and found that seven out of ten inmates were first-time offenders, and almost half of the repeat offenders had been arrested only once before the current detention. The report said these findings were a stark contrast to the situation in Latin American nations, where at least 50% of inmates would have been sentenced at least twice before their current incarceration.
It was noted that the two most frequent crimes for which the inmates were arrested in Guyana was intentional homicide or murder (34.9%) and drug possession or drug dealing (21.3%). Additionally, men tended to be sentenced for intentional homicide/murder and robbery/aggravated robbery, while women were found to be more prone to be sentenced for drug possession or drug dealing.
Additionally, with overcrowding observed in the prison, the report pointed out that it diminishes the level of welfare and increases the probability of disorder and violence into the prisons. 
"…..Good practices in this matter advise that when cell overcrowding is an important issue, prison administrators and staff should devise a plan for letting the inmates spend as much time as possible each day out of the cells (in the hallways, in gyms, or in the patios) to provide additional entertainment and recreation in order to ease tensions and conflicts related to overcrowding," it stated.
The survey also revealed that three out of ten inmates said that a final judgment had been rendered and that they would file no further appeal, and two out of ten said they had been sentenced and neither them nor their lawyer had appealed the sentence. However, on the other hand, two out of ten inmates said they were going through trial with no sentence yet, and one out of ten inmates reported having seen the magistrate but the trial had not begun.
Both findings, the report said, showed that for a third of the inmates, prisons in Guyana do not comply with basic regulations stating that "any form of detention or imprisonment and all measures affecting the human rights of a person under any form of detention or imprisonment shall be ordered by, or be subject to the effective control of a judicial or other authority" and that "a judicial or other authority shall be empowered to review as appropriate the continuance of detention."
Low investigative capacity
It was also noted that almost half of the inmates had been arrested on the same day of their offence, with the suggestion being that most of them would have probably been arrested "red-handed" or "in flagrante" and not as a result of a thorough criminal investigation.
As a result, the report says that judicial institutions in Guyana have low investigative capacity and that mostly the weakest echelons of the crime are detained. "Although the evidence is not conclusive, these results seem to indicate it is necessary to train operators in the criminal justice system," it adds.
Also found was that the civil and human rights of detainees are not always fully respected and in this regard it noted the need to supervise police behaviour. According to the survey, among those inmates that were taken to the police station, 81.1% of them were not informed that they were entitled to a lawyer. Further, more than three out of ten inmates (34.2%) said they had either been hit or compelled through physical force to testify or to change their statement while at the police station.
"A clear policy implication emerges from those results: there should be an effective oversight of the police through accountability mechanisms, such as functional complaints or external review mechanisms," the report recommends.
The report also says the survey detected many shortcomings to facilitate proper defence of the detainees. Almost a third or 29.5% of them said they had never spoken to the judge directly, while half of them or 55.9% said the judge had listened to them "little" or "very little" and 43.3% said that they understood "little" or "very little" about what was happening at the hearings and in courts.
Similarly, the report noted that 42.9% of the inmates reported not having had a lawyer, while four out of ten inmates (40.5%) who had at least one lawyer thought that their lawyers defended them "very poorly" (15.6%) or "poorly" (24.9%). This finding, according to the report, suggests that the importance of allocating more funds to the criminal justice system to the extent that this could be possible.
Also highlighted in the report is the limited access to public defence in the local criminal justice system as only 14.3% of the inmates that had a lawyer said that they had a public defender, while seven out of ten (77.4%) had hired a private lawyer.
One positive, the report noted, was that only a very low level of corruption among criminal justice personnel was found as nine out of ten inmates said that no public official had asked them for money or belongings from the time of their arrest until their sentence.
The survey also found that prisons have important shortcomings in terms of their responsibility to provide inmates with critical items, such as clothing, shoes, and sheets. "Faced with this abandonment by the prisons, the families of inmates are forced to be the main providers of many of the most basic items that inmates require for a dignified life in the prison," the report said, while noting that this indicates that prisons here are far from international regulations on this critical matter.
Around the Web