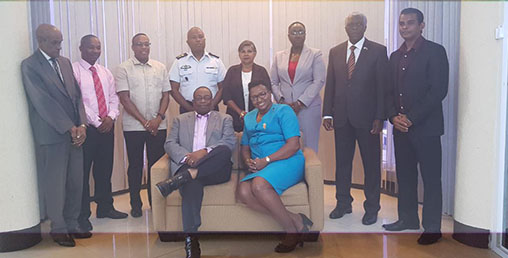 The newly-inducted Board of Directors of the Guyana Civil Aviation Authority (GCAA) will be proactive in fulfilling its mandate of ensuring the skies over Guyana are safe as well as in supporting business initiatives in the aviation sector, returning Chairman Lt. Col. (Ret'd) Lawrence London said yesterday. 
 The induction ceremony was held yesterday at the GCAA's Kingston, Georgetown headquarters and saw attendance by Minister within the Ministry of Public Infrastructure Annette Ferguson, GCAA officials and members of the new board.
Apart from the return of London as Chairman of the board, those inducted to serve on the body are: Permanent Secretary in the Ministry of Public Infrastructure Kenneth Jordan, GCAA Director General Lt. Col. (Ret'd) Egbert Field, Lt. Col. Courtney Byrne of the Guyana Defence Force, Professor Duke Pollard, Cheddi Jagan International Airport Chief Executive Officer Ramesh Ghir, Sharon Beverly, Sadie Amin and Leon Castello.
In his remarks at the ceremony, London said, "The Board has a mission to ensure that the Authority does its work, that the skies over Guyana are safe and we are going to be vigilant to ensure that the work is done properly."
He also noted that efforts will be made not only to look at small matters but to also support business and business initiatives that may involve the sector.
"In the past, we would have observed that it took a long time to get things done and we are going to cut that time down; we are going to ensure that those requests that come to us, whether it's for training or approvals or whatever it is, that we do so with due diligence and get it done as soon as possible," London stated.
"This Board is going to be very different. We are going to make decisions. We are not going to be whipped into making decisions. You will have to put brakes on us, you will not have to request us to get it done," he added.
Meanwhile, Ferguson, in her remarks, reflected on the achievements made by the previous board and urged the new members to work towards surpassing them.
She explained that the board had over the last two and a half years managed to move the compliance rate from 44.4% to 64.6%, an improvement for which it was recognized by the International Civil Aviation Organisation (ICAO). It also facilitated the training of personnel to the tune of millions of dollars and had worked with the government to procure a flight simulator for the Cheddi Jagan International Airport.
"I say all of this to say this to you: Over the last two and a half years, the GCAA, in my view, would have grown and I know for the next two years we will see massive improvement, more so with the imminent oil and gas coming on stream. I see aviation growing. A tsunami is indeed coming," Ferguson said.
"Ladies and gentlemen, you members of this new board, my charge to you here this morning is to let us continue to work together, both the Board of Directors and the government. Rest assured, we will give full support to your activities and the programmes you have… Let's work towards seeing aviation grow from where it is to where we want it to be," the minister added.
Around the Web