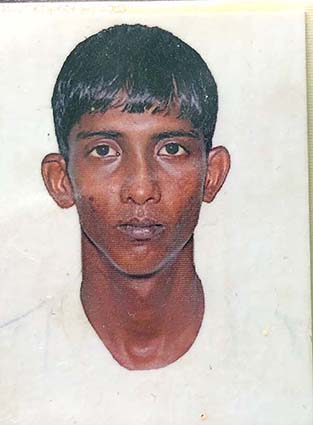 A 50-year-old businessman and his son were yesterday charged jointly with the murder of Brain Dwarka, the young labourer who was  stabbed early Sunday morning while attending a barbecue at Mon Repos, East Coast Demerara.
Suraj Singh and his son, Andrew Singh, 24, of Lot 257 Third Street, Mon Repos, ECD are accused of murdering Dwarka on May 27 in the said village.
They were not required to plead to the indictable charge which was read to them by Magistrate Zamilla Ally-Seepaul at the Sparendaam Magistrate's Court and were remanded to prison.
The matter was adjourned to June 28.
The duo was arrested by the police shortly after the incident.
The police had said that Suraj had visited the police station earlier and made a report that Dwarka had robbed and beaten him up.
However, at that time the ranks were unaware that he was a suspect in the murder and issued a medical to him. He took the medical to the Georgetown Public Hospital where he was then arrested.
Andrew was arrested at his home.
Meanwhile, an autopsy performed on Dwarka's remains on Monday showed that he died as a result of perforation of the lungs and the heart due to the stab wound he sustained.
Reports are that Dwarka, 23, of Lot 128 Mon Repos South died early Sunday morning after he was stabbed in his chest.
Stabroek News was previously informed that at the time of his death, Dwarka was at a barbecue and lime when he and his friends were allegedly attacked by Singh and several other men.
As a result, Dwarka and his friends ran away and he ended up in a nearby yard where he was stabbed once in the left side of his chest and was left to bleed on the ground.
Derick Mahadeo, one of Dwarka's friends who was with him on Saturday night at the event had related to this newspaper that the now-deceased man was playing 'chic-chic' and gambling when an argument ensued between them and the alleged perpetrators.
Mahadeo explained that Dwarka started dominating the game and was winning a lot of money when he was accused by the businessman of cheating.
The elder Singh then asked for him to return the money he had won and when Dwarka refused several other men approached them with glass bottles and started attacking them. Mahadeo had said that he was told that Dwarka tried to escape by jumping a resident's fence and ended up in the yard where he was attacked and killed.
Dwarka's relatives had said when they arrived on the scene no one wanted to assist them in taking the man's body to the hospital.
He was picked up by the Guyana Police Force and transported to the Georgetown Public Hospital where he was pronounced dead on arrival.
Around the Web