In a second day of protest, bus operators from the East Coast of Demerara flocked the Lusignan Market tarmac yesterday to voice their frustration with the increased fuel prices.
Over the past few weeks, fuel prices have risen sharply  resulting in operators of commercial vehicles threatening to stop working until something is done about the increase or there is a hike in fares paid by passengers. The higher fuel prices are in line with the global trend. Under the previous PPP/C government, lowering of the excise tax on fuel was used a means of cushioning the increase in oil prices.
When Stabroek News visited the Lusignan tarmac yesterday, bus drivers and conductors had parked their buses as they converged to share their frustration with anyone who would listen.
 One man who spoke to this newspaper said while their last resort is to increase their fares, the inaction of those in authority seems to be leaving them with no alternative.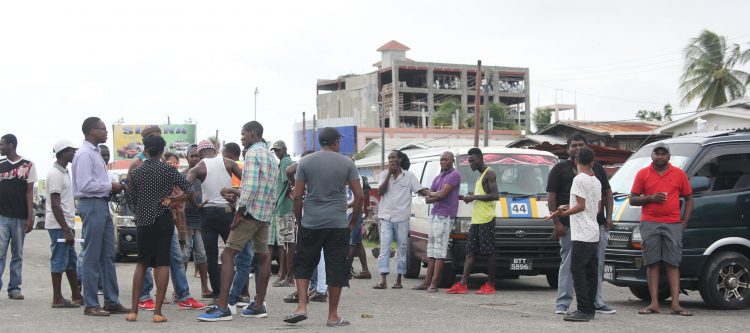 "This that is going on here today is all because of the gas prices; the passengers cannot afford it the minibus cannot afford to be up and down the road because the gas is expensive and they will not make any money at the end of the day," he related.
"Number one the road is not good, they want everybody buy new tyres but the by time you go down the road and drop in a hole the tyre bend up; Why we are out here today is for someone to do something about the fuel prices or we are going to have raise the fare," the man added.
"We do not want to pressure the poor people but if nothing is going to be done then we are going to continue to strike and if push comes to shove then we going to have to up the fare," another man said. 
"Is nonsense; we need fuh the gas to drop or the fare to raise cause it not paying out when we working. People working with people, at the end of the day you have to meet yuh target for the bus, you got to pay for gas, you got to pay the driver and you got to pay yuhself. Whatever yuh lef with you gotta thank God for if you lef with a 2000 or a 1000, you gotta be thankful for that and people not looking for we, they not looking to see how we suffering in all this," he lamented.
"Another thing even if yuh say you gonna fetch an overload yuh not gonna make money plus you gonna get lock up by the police. Tomorrow is going to be the final day of striking and from then we going to raise the fare. We don't want to harass anybody because all of us are working for an honest dollar and if Mr. Granger could do something for us because we vote for change but we aint seeing any changes," another bus operator chimed in.
As of Wednesday, prices as the State-owned Guyoil had seen a $10 increase per litre of gas having moved from $220 to $230. The diesel prices remained the same.
Meanwhile, gas prices at SOL had moved from $234 to $239 per litre, while diesel had jumped from $220 to $233 per litre. Over at Rubis, the prices were listed as $236.5 per litre of gas, and $226 per litre of diesel, indicative of $10 and $5 increases, respectively.
On Wednesday, bus operators had protested outside the Ministry of Business and other locations over the fuel prices.
 On May 19, three gas stations, namely, the Guyoil Oil Gas Station on Regent Street, and the Rubis and Sol Gas Stations on Vlissingen Road were visited by Stabroek News and the prices of gasoline and diesel recorded.
At the time, prices at the state-owned Guyoil had not shown any increases, as gas and diesel remained at $220 per litre and $214 per litre, respectively. Over on Vlissengen Road, SOL had recorded a $12 dollar increase in the price per litre of gasoline, having moved from $222 to $234; diesel prices, however, had remained the same.
Rubis, on the otherhand, had listed the price of gas at $227, an increase of $4 per litre, but unlike SOL, the price of diesel saw  a $6 price increase, having moved from $215 per litre to $221 per litre.
Around the Web