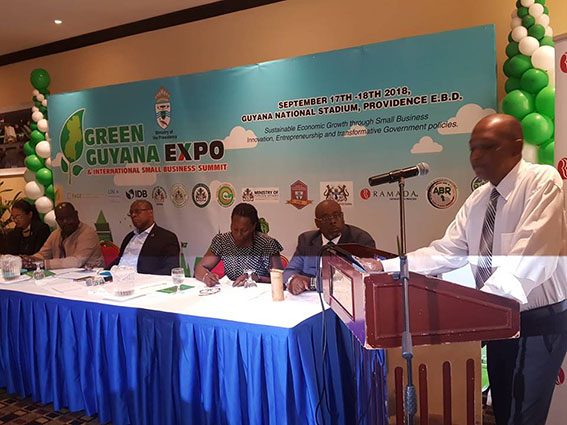 With a focus on building women and youth entrepreneurship and mobilising investment, the Guyana Green Economy and International Small Business Summit and Expo was launched yesterday.
"Pursuing a green economy transformation is particularly relevant for our youth, women and all those on the fringed entrepreneurial class," event organiser and African Business Roundtable (ABR) executive Kirk Hollingsworth said at the Ramada Princess Hotel, at Providence.
"They are among those worst affected by climate change but also have fewer resources at their disposal to adapt to its impacts… this summit caters for that neglected entrepreneurial class of women and youth in Guyana," he added.
Slated to be held on September 17th and September 18th of this year at the Providence Stadium, the summit promises to bring a wealth of knowledge and empowerment to Guyana's populace on what is a green economy and how citizens can partner to help build their country by responsible management of non-renewable natural capital and sustainable management of renewable resources.
Green economies traditionally emphasise low carbon resource efficiency and are socially-inclusive.
Hollingsworth was quick to point out that while government has a key role to play in creating the conditions for green growth, achieving the desired green economy also involves the encouragement of small private businesses to engage and invest in those plans.
He stressed that countries like Guyana urgently require "new economic growth models" that integrate social cohesion and environmental considerations into their economic decision making and development planning.
Attendees at the two-day summit will be given a hands on opportunity to see participants demonstrate how a green economy can grow and exist besides a brown economy.
'All encompassing'
Government has plugged some $18 million into the initiative, which is also getting support from a number of partners, including but not limited to the Inter-American Development Bank and the ministries of the Presidency, Foreign Affairs, Finance, and Natural Resources, as well as the University of Guyana.
The Ministry of Finance representative at the launch, Finance Secretary Dr. Hector Butts said: "The intent of the summit captures the four pillars of economic growth and sustainable development—entrepreneurship, administrators, institutions and a firm broad tax base."
Butts reminded that his government is planning to not only ensure the economy grows but that that it is also transformed structurally into a green one.
"With structural transformation of the economy, many opportunities for small businesses would be created… for example, in the resource extraction sub-sector, there will be opportunities for small businesses. Everyone knows white sand is bountiful in Guyana. That sand can be used to make glass, solar panels…our clay can be used to make ceramics, bricks and the list goes on," he said.
He added that Guyana's entrepreneurs should seize the opportunity now to be equipped with the skill sets needed to establish and manage thriving businesses as myriad opportunities will arise to facilitate their enhancement when oil production commences in 2020 and their government is standing ready to give them support.
 'Key outcomes'
As he noted the contributions of past administrations to Guyana's green initiatives—the PNC's establishment of Iwokrama under former President Desmond Hoyte and the Low Carbon Development Strategy (LCDS) under the People's Progressive Party/Civic—head of the ABR,  Eric Phillips said that the country has to keep the trajectory.
Phillips noted that the Expo and Summit aims to achieve several key outcomes: Improved competitiveness of small
businesses, through joint ventures, licensing, adoption of Green Business practices, methods and standards for product and services development and delivery; Enhanced Diaspora interest and participation via investments and Joint Ventures with businesses and groups in Guyana; matchmaking of international and domestic companies; and introducing international financial investors who are willing to finance new technologies, new production processes and new business models in the delivery of greener products and services.
While admission to the expo is free to the public, participants requiring booths will have to pay a small fee and Phillips said that the organisers can be reached through their contact information which is listed online.
Around the Web