With no increases in minibus fares in more than a decade, the United Minibus Union yesterday said it is seeking to engage with government on how best to move forward amidst rising operational costs, including gas prices, while making it clear that it does not support the actions of some rogue operators who have resorted to strikes and blocking of roads to press demands for higher fares.
Speaking at a press conference yesterday, head of the union Eon Andrews said the rising operational costs for operators, which the union has no control over, are adversely affecting their ability to earn "liveable" returns.
While the union would have had negotiations in the past with then Minister of Commerce Manniram Prashad and his successor Irfaan Ali, Andrews noted that the union is now unaware of which ministry or government agency under which their operations falls, after they were told by the Commerce Department of the Tourism Ministry that they are no longer involved in discussions relating to fares and other related issues.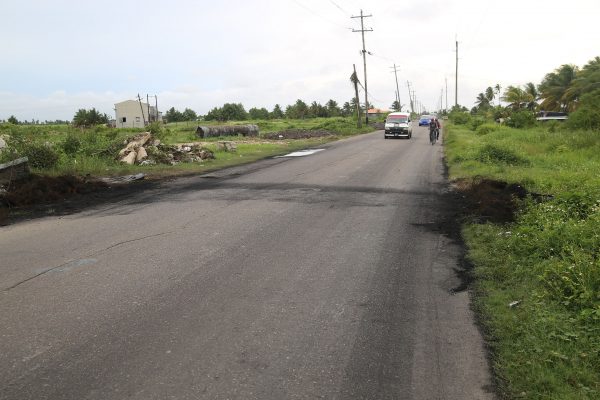 "At this time, the union does not know who we should engage as it relates to the constantly escalating fuel prices and operational costs. The union is very concerned that there could be a frantic increase in minibus fares which obviously would impact the travelling public who also happen to be the poorer class of people in our society that are already struggling to make ends meet," Andrews said.
There have been sporadic strikes by some bus drivers during the week and Andrews explained that others have "embarked on gross overloading," which he said can create new levels of indiscipline that might become accepted as the norm over time.
"We are sure that the government can come up with a plan to benefit all stakeholders in the transportation industry. They must be able to tell us, this is what they can do and this is what they can't do. We will not hold to the fact that if gas go up, minibus fare must go up. Minibus do not run on gas alone and there are other astronomical operational costs. So when I hear they say because gas go up they have to raise, it is not a fair argument," Andrews explained, while emphasising that the unions does not support the current actions which are being taken by some drivers to strike and block roads.
Early yesterday morning, bus drivers and conductors blocked off the Embankment Road at Coldingen, East Coast Demerara, for several minutes with burning tyres. The situation was contained by the police and the Guyana Fire Service and no serious damages were recorded.
The union president also advised passengers not to pay any increased fares until discussions are held with the relevant authorities and a joint conclusion is arrived it.
Even though the market is run by a free trade, Andrews pointed out that in order to prevent any hostility between commuters and drivers, a joint statement from the government and union would be accepted across the board.
"We will never tell our people to go out there and do this and do that. We believe in negotiating. They can bring 1,000 buses and put $500 for a short drop, as long as you put it up in the bus. We found that they [citizens] respond to when there's a joint statement with the government. They would accept that," Andrews posited, while stating that they need a new and improved structured price system.
When questioned about the proposed increase of $20 across the board that bus drivers at a protest in front of the Ministry of Business on Wednesday were suggesting, Andrews said it would be unfair for the union to suggest a specific amount for an increase and that it can only do so following discussions with the government.
He explained that the relevant authorities will have access to data that will be able to show how much disposable income the commuters have, which will lead to a consensus on how much of a raise in fare they would be able to afford.
"The last increase was after 2008 and it never raised while everything else is rising. We want rounded figures. It might be $20 in some areas and $40 in some areas. It wouldn't be fair for me to set a figure, it would be imposing on the government and travelling public, and we need to look at it holistically," Andrews added.
He explained that since 2008, the operational costs for vehicles have increased by over 90% along with the increase in gas prices.
Sookdeo Singh, a bus driver and representative of the East Coast of Demerara route, was also present at the press conference, and gave a breakdown of the yearly and daily cost of operating his bus, which he said is way more than the amount of money he earns.
Using the cost for insurance, fitness, licence, servicing and monthly repairs, tyres, and dues to the Mayor and City Council, Singh explained that he spends a minimum of $745,000 a year, which translates to approximately $2,100 per day, and excludes the cost for gasoline.
This, Singh said, is not achieved by most drivers during a day of work. He related that he was forced to lay off his conductor and employ his wife in order to cut his operational cost.
"All we are asking is for the ministry to sit with us, so that we can sit around the table and come up with a figure that can cover our operational cost, which has gone way beyond the people's pocket," he added.
Two months ago the price per litre of gas stood around $200, give or take $5, and it currently stands at $230 at Guyoil, $239 at Shell and $235 at Rubis.
Around the Web