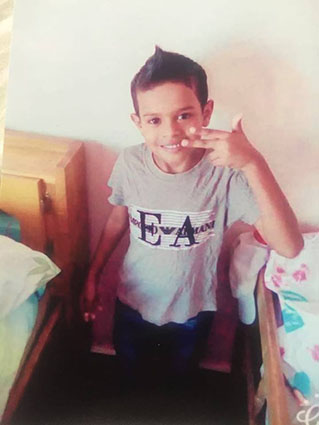 At the age of eight, when play is the main preoccupation for most boys, life for Matthew Zaman is very different.
A few days before Christmas last year, Matthew was struck down by a minibus, leaving him paralysed. The former student of the La Bonne Intention Primary School can no longer eat, speak, walk, or even breathe on his own.
Currently bedridden at his Lot 20 Felicity Railway Embankment, East Coast Demerara, home, he is fed through his nose via a tube, and breathes through an intrusion in his neck. He is unable to sit and lays prostrate, unable to bend or move any parts of his body. He, however, does respond to his mother's voice by rolling his eyes.
"I ask God for health and strength every day so I can stand up and look after my baby. He is my life… everybody know that. And I feel the pain, so I know," his mother, Bibi Shanaz Khan, who is a single parent, lamented.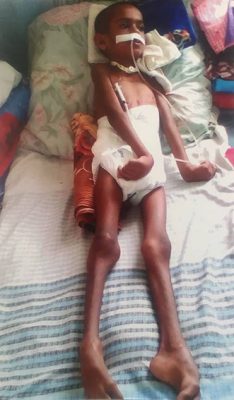 Matthew, the youngest of eight siblings, was struck down by a speeding Route 44 minibus, on December 18th, 2017. The accident occurred in front of his home, after he had left his yard, without permission, to go after one of his three sisters, who had gone to a nearby shop.
"He like run behind she. Anywhere she go, if she go to work and got to catch a bus, he got to mek sure he go by the gate and standup… but on that day to now, a pain left in my stomach to know this happen because my children dem don't go out on the road like this," said Khan, who has worked and maintained her eight children after separating from their father several years ago.
Khan explained that on the morning of the accident, she left Matthew in the care of his three eldest sisters and left for work. Hours after, she said that she received a call informing her that he was involved in an accident and she should rush to the hospital.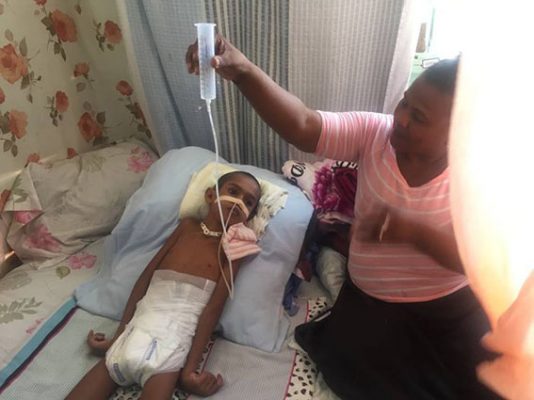 Her daughters would later tell her that they made several checks for Matthew in and around the house, but he was nowhere to be seen. As a result, they ventured to search outside when they learnt that another sister had left and gone to the shop right next door to their house. "So like me ain't know, like he lef the house and he go out and whilst walking going behind she he get knock, because the sister she seh while she did walking going she just see the brother before he, running, and seh 'look a bus skating pun the road,'" Khan added.
She said her daughter rushed out before she heard an impact. She then enquired where Matthew was and subsequently learnt that he was struck down.
The driver of the bus, Andrew Albert, has since been charged with dangerous driving and has been released on $100,000 bail. He is currently on trial.
Following the accident, Matthew was taken to the Georgetown Public Hospital (GPH), where he was admitted for a lengthy period. During his admittance, Khan said he spent his first 13 days in the Intensive Care Unit and then he was transferred to the Paediatric Ward until January 30th. He was then discharged for about a week and a half, after which he was re-admitted and then discharged again on March 2nd.
The distraught mother said that doctors told her that he had sustained head injuries, a fractured skull, swelling and bleeding of the brain, and spinal injuries as a result of the accident. She also related that doctors told her that Matthew had a chance of survival but they couldn't guarantee that he would be the child be used to be before. Since then, he has been attending the clinic at the GPH's Neurosurgery Department.
Hoping
Khan said that although she knows that the possibility of her child getting "back on his feet" is very low, she is hoping that some doctor out there can assist her with at least getting her son to improve. "I aint even mind if he got to deh in a wheel chair and he could eat and drink, but this is how he is," she said.
"Every day me does sit down and cry fuh me son. Sometime meh does sit down by the window and me does see them children from the other yard walking, riding bicycle and suh. And watch he how he got to be," Khan cried.
Consultant Neurosur-geon Dr Amarnauth Dukhi, the head of the Neurosurgery Department, recently told Sunday Stabroek that the possibility of Matthew recovering is highly unlikely due to the injuries he had sustained during the accident, which includes a severe brain trauma injury secondary to extensive intracranial bleeding. Intracranial bleeding occurs within the skull (cranium), whilst bleeding around or within the brain itself is known as a cerebral haemorrhage.
Dr Dukhi said while it is not a guarantee and it is highly unlikely that he can recover, Matthew's condition can improve if he receives physiotherapy and rehabilitation. This can lead to and is not limited to him improving by having some movement in his legs and arms. This treatment is said to be long term and can be facilitated at the Physiotherapy and Rehabilitation Unit of Ministry of Public Health.
While Matthew's case is not rare, Dr Dukhi said that unfortunately due to the extent of his injuries, which are so severe and permanent in nature, the Neurosurgery Department cannot assist with any surgical intervention to improve his current condition in any way.
Daily struggles
Khan said that she is finding it difficult to cope generally, and specifically financially, since she was forced to leave her job following the accident as doctors told her that Matthew needed around the clock care. "It's very hard because I use to work fuh maintain meh children them. I had to stop because the doctors them tell me that child need home care and I don't intent to got meh child suffering," she said.
She said to sit at her son's bedside and watch him daily in such a condition is not easy. "…Lots of stress. I don't get fuh sleep in the nights. It's like I does tear up sometimes because if I do get fuh sleep like is an hour and I up. Two, three o'clock in the morning I still up because I does got to look after he," Khan said.
"Nothing, nothing he don't do, this is how he deh. I does got to turn he like every three hour, ever two hour. If he got a pain, I don't know, but I does see it from he face, or sometime water does drop from the two ears in the corner, that's all," she added.
"This child, really…this is not the child I know. He like martial arts. He like cricket. Let me tell you, he's a very loving child. Me ain't got no problem. He very willing. If yuh say yuh want some water, he ah run bring it. If yuh seh yuh head ah hurt yuh, he ah run go bring tablet… all meh children know that I love this child bad because all of them know that," she further stated.
Pan American Health Organization/World Health Organization statistics show that only 25% of children with disabilities have access to education, and only 5% finish primary school, of which Matthew is likely to be counted.
As it relates to the driver, Khan said that Albert visited her during the first three weeks after the accident and offered some assistance, after which she felt he was pushing her around. "After then is like I have to call him and ask him and when I call the phone turn off it deh pun voicemail and I didn't ask anymore," she said.
Khan said her son used to receive therapy at the GPH, but she was given a transfer to the Ptolemy Reid Rehabilitation Centre. She said she took him only once to the centre since she cannot afford the cost. "The driver help me on the first time, but after that I didn't take him back because I got to get a taxi to take him and bring him back and that's hard," she explained.
Meanwhile, SHEA Charity, a non-profit organization, has since set up a GoFundMe account to help raise funds for Matthew.
President and founder of SHEA Charity, Lori Narine told Sunday Stabroek that the goal thus far is to raise at least US$15,000. However, the amount, she said, can increase significantly based on further medical evaluation.
She said, his present condition has led the organisation to believe that with advanced medical treatment, he may be able to regain some mobility.  "This is our hope, but we cannot say what the outcome will be. We are working with doctors in the US and Guyana to determine treatment course, and if advanced medical intervention would help him," Narine said.
"If he can benefit from treatment in the US, funds raised will be used for all expenses relating to his medical treatment, including, medical evacuation, housing, meals, medication, medical expenses, living expenses, etc," she explained, while noting that if he cannot benefit from such treatment, the funds raised would be used to make him as comfortable as possible here in Guyana.
Narine also explained that SHEA is also hoping to purchase an adjustable medical bed, medical supplies, medication, therapy, and provide enough money for Khan to care of Matthew, since they currently reside in a small home without an electricity supply.
"Our main focus at this point is medical intervention in the hope that he can recover," Narine noted.
Anyone wishing to render any form of assistance can contact Bibi Khan on telephone numbers 659-6766 and 651-6095.
Around the Web