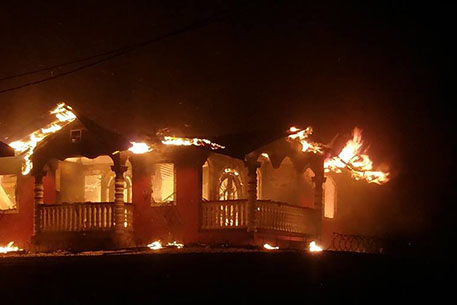 A Nonpareil, East Coast Demerara businessman is now on life support after he suffered a heart attack on Friday evening, when he learnt that his home and businesses were destroyed by a fire, suspected to be of electrical origin.
Hanuman Singh's two-storey Lot 360 Block 12, Nonpareil property, which housed a supermarket, ice-cream parlour and a newly-constructed bar in the lower flat, was gutted within a matter of minutes after the fire started around 9 pm.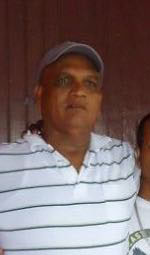 Singh, 57, also known as 'Latchie' and 'Birdman,' his wife Lalita, two of their daughters, Reshma Nehaul and Ashanee Singh, and Nehaul's son, all lived at the property.
The businessman is currently admitted as a patient at the Georgetown Public Hospital, where he was on a life-support machine. His condition was listed as critical up to late last evening.
Sunday Stabroek was told that the fire started in the ceiling of the top flat of the house shortly after electricity was restored in the area following a power outage. At the time, no one was home.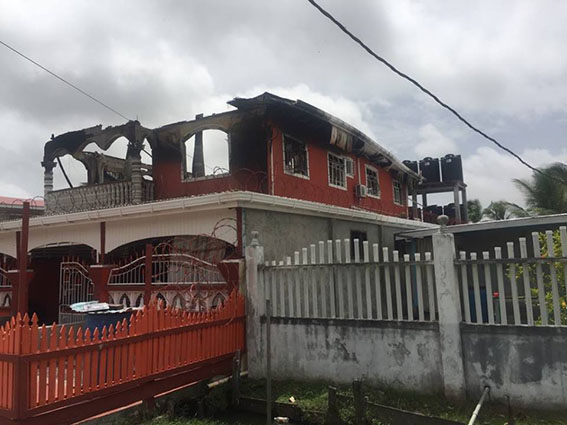 Nehaul related to this newspaper that she and her family were at the bar in Enterprise that Hanuman is currently operating when Ashanee received a call about the fire. "She like she didn't believe so she left stumble and she holler and
seh 'Mommy abe house on fyah,'" Nehaul said.
She explained that after they received the news, her father immediately picked up his bicycle and left. She assumed he rode to the house.
Nehaul said she, her mother and sister had to close the bar and wait on transportation before they could leave. However, she said by time they reached at the scene, the house was already completely engulfed by flames. Hanuman was nowhere to be seen.
She said relatives launched a search for him on Friday evening but did not find him. They continued to search yesterday morning but they were unsuccessful.
However, Nehaul said around 10 am, they received a call from a relative who told them that Hanuman was seen around the National Zoo in Georgetown, where he had asked a guard for some water. The relative, Nehaul said, requested that they immediately rush to the location to take him to the hospital.
However, Nehaul related that by the time they arrived, Hanuman had already suffered a heart attack and had been transported to the hospital in an ambulance. Relatives were unsure whether Hanuman rode to the zoo or whether he walked there. Anita, a neighbour, said that she had seen him riding in the street at the time of the fire. "When me come out me see the big man over deh [Hanuman] ah ride fuh go up suh [the street]," she recounted.
At the remains of the property yesterday, a number of relatives gathered to await word on Hanuman's condition.
They also vented their anger over the response of the Guyana Fire Service. They said two fire tenders responded but upon arrival at the scene they had to source water.
The family estimated their losses to be in the millions of dollars. The new bar was scheduled to be opened at the end of this month.
Around the Web