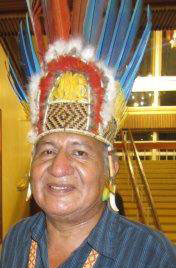 Prompted by language barriers faced by some Indigenous peoples when interacting with the courts and other agencies, a group of persons are now offering their services as translators of Indigenous languages.
Spearheaded by Ovid Williams, a well-known figure in the country's Indigenous community, the group's services are being offered under the name of Kapong Maimu Inc, which is derived from the Patamuna and Akawaio languages, and when translated means, Indigenous Language Incorporated.
The service is said to have been developed to offer assistance in the breaking down of the language barrier between Indigenous peoples who cannot speak English and other members of the citizenry who can.
Speaking with the Stabroek News, Williams explained that he has seen and heard cases where Indigenous people have been negatively affected because of this said barrier and as such, he and several others have come together to offer translator services for all nine Indigenous languages.
"It was prompted by language barriers at the courts, inadequate translators at the hospitals which have in some cases led to misdiagnosis, late registration of births, and inaccurate interpretation of information, etc.," he shared.
This aside, Williams said he hopes that by offering such a service, it will pique the interest of other Indigenous and non-indigenous peoples to learn the language.
"The etymology of language is interesting and I hope that interest will gain momentum in the service. Soon I hope the newspapers will have a little corner, every weekend, promoting Indigenous vocabulary with frequently used words and salutations," he shared.
"I hope this simple gesture awakens the Indigenous to be proud of their culture… our language is our identity. There are many Indigenous People who wish they could speak their language, but cannot, because of circumstances they faced…I hope this small move makes Indigenous People proud of their culture and motivates them to speak their language, anywhere and everywhere they possibly can," Williams added.
According to Williams, they are open to providing the service to those in need at the courts, hospitals, Ministries and any citizen who requires their assistance.
At present, the group comprises experienced Indigenous speakers from all the nations who have experience in translating the Amerindian Act, The Holy Bible, dictionaries, etc.
A descendant from the Patamuna Nation, Williams himself is a fluent speaker of the Patamuna and Akawaio languages, while the other members of the group are each versed in at least one of the other seven languages, and as such they can offer translating services in all nine Indigenous languages.
 Meanwhile, when asked about the response to the introduction of the service, the influencer said they have received mixed reactions to the endeavour. 
"There has been mixed reactions, some say that the Ministry should have spearheaded it, some people feel it should be free service. Others asked why it took us so long to establish, what writing systems we will adopt, how it is going to be sustained and how they can join us to learn the language; there are even some who feel that it will not last," Williams explained.
 He was however, happy to report that the Maternity and Child Health Unit of the Ministry of Public Health, the Domestic Violence and Child Abuse departments are some of the agencies which have already contacted them regarding their services, while the FLEGT / VPA unit has also shown some interest.
 For more information on the services being offered by Williams and his group, persons can contact Williams on phone number 664-4987or via email at ovidkapong@yahoo.com.
Around the Web