A mysterious fire reduced a West Ruimveldt family's home to ashes yesterday afternoon.
Although firefighters from the West Ruimveldt Fire Station promptly responded after being alerted about the burning house, located on the Front Road reserve, it was already engulfed by the time they arrived and they began working to save the  house next door.
Stabroek News was told by residents that the fire started shortly after 3 pm, which is when they spotted the flames emanating from the rear of the house.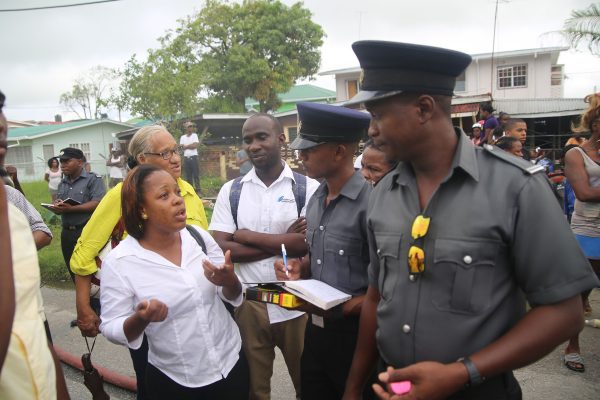 At the time of the fire, no one was at home. Melinda and Travis Reid, their two children, who are ages seven and three, and Melinda's brother, Trayvon Pitt had called the property their home.
Melinda yesterday told Stabroek News that she was near St. Joseph High School, where she worked as an examinations invigilator, when she was informed of the fire. "I was at St. Joseph about to go in a bus and my neighbour called me and said your house burn down. I said okay. And she called back and said, 'Hurry and come!' But I asked her, 'What you want me to do?'" the woman recounted.
She went to explain that she was conscious of the fact that she could not have done anything to prevent the fire from destroying her two-bedroom home.
"I know I couldn't have done anything. I just have to thank God I am alive and none of family was there or injured," she said.
Asked if she had any idea how the fire may have started, she said she did not, before noting that no electrical appliance was left plugged in.
"I have no idea how this fire started. This morning when I left nothing was on. I dropped the kids to school and came back home and go over by my aunt. I left at 11 for work and nothing was on. I pressed for the week last night and my brother didn't press today and no one was home, so I don't know how this fire started," she explained.
The Guyana Fire Service has launched an investigation to determine the origin of the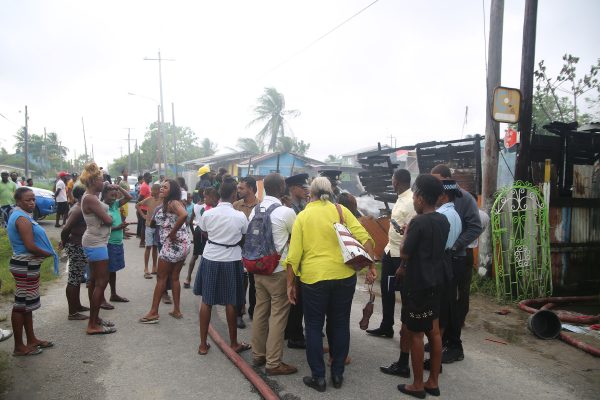 fire.
Melinda said the house was fully furnished with other modern amenities. Two televisions, a laptop, a washing machine and a refrigerator were among the family's possession that were destroyed.
The woman also noted that last Christmas she got a bunk bed for her children on hire purchase.
Melinda also said she and her husband had managed to secure an already constructed house at the Central Housing and Planning Authority's housing scheme at Perseverance, East Bank Demerara. She, however, noted that it is unclear what would happen since all their documents were destroyed in the fire and they have been unable to secure a needed loan from the bank.
She added that she and her family would be seeking temporary accommodation at her mother-in-law's residence. She also noted that they would be willing to accept whatever assistance is provided by members of the public as they work to rebuild their lives.
Anyone desirous of helping the family can contact them on 693-4103 or 649-4154.
Around the Web