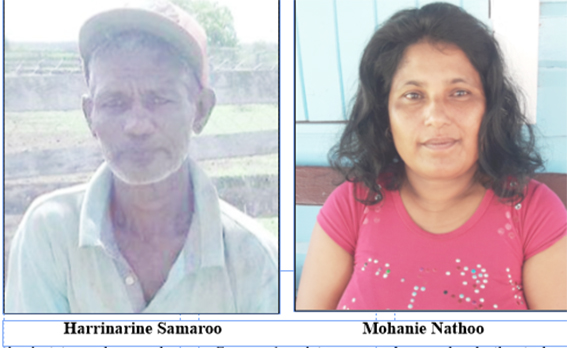 The body of a Betsy Ground Village labourer was found on Monday with bullet wounds at a camp located in the New Forest backlands.
His workmate and two others have since been arrested.
The deceased has been identified as Harrinarine Samaroo, also known as "Ding", 51, of Betsy Ground Village, East Canje, Berbice. The murder is suspected to have occurred  between 6.30 pm on Sunday and 1.30 pm on Monday. 
According to a police source, Samaroo's body, which bore two bullet wounds, one on the right side of his neck and the other in the corner of his left ear, was discovered in a crouching position some twenty feet away from the camp.
Commander of B Division, Lyndon Alves noted that based on information received, three men were in custody, as of yesterday afternoon, and assisting with the investigation.
"We are investigating as murder. There are claims of sheep missing but we are investigating as murder", Alves stressed yesterday.
According to information gathered, both men were employed by a Canada-based Guyanese to oversee a large herd of cattle in the backlands.
Stabroek News was told that Samaroo's workmate of  Reliance Village, East Canje, who is in custody, was reportedly lying in a hammock in the lower flat of the camp in the New Forest backlands, while Samaroo was at  the western end of the location, away from the camp, carrying out some work.
According to a police source, the workmate claimed that he  heard a gunshot and decided to make a run for it since he was scared.
The source noted that the workmate, who has some sort of injury on his hand, is also claiming that at some point in time, someone dealt him a lash on his left hand, after which he escaped.
After leaving the area, the workmate rushed to the Reliance Police Station where he lodged a report of the incident.
A relative of the overseas-based owner then ventured into the area and found Samaroo's body. He also discovered that ten sheep were missing from the camp.
 Meanwhile, Samaroo's sister, Mohanie Nathoo, 45, of Betsy Ground Village, yesterday told this newspaper that on Monday sometime after 4.30 pm, the workmate's relatives visited her home and told her of the incident.
 "… me brother get shot and he (the workmate's) son jump out the window when he hear the gunshot, and me buddy been done get shoot," she related.
Nathoo stated that her brother had been employed at the camp for several years before the workmate.
According to Nathoo, her brother seldom came out of New Forest. "One, one time he does come out and drink a road deh, and sleep deh, all he life he live in deh," she added.
The woman recalled that the last time she saw her brother was about two weeks ago, "… he come and ask me how me deh, and so, and he gone back", the grieving woman noted.
Samaroo's relatives are calling on the police to conduct an extensive probe in order to ensure that justice is served.
"We poor, but we want know who do this to him, we want know. We can't suspect anybody, but we got to know", one of his sisters pleaded.
Around the Web