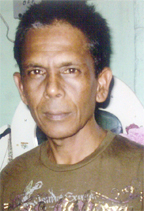 Mahendra Bishundial who has been accused of the 2012 shooting death of Edun Farms truck driver Aga Khan, now faces a retrial after a jury was yesterday unable to arrive at a verdict.
After about three hours of deliberations following the conclusion of the trial, the 12-member mixed jury was deadlocked in a proportion of 10-2 on the capital indictment leveled against the man.
Owing to that proportion which represents a hung jury, Justice James Bovell-Drakes informed Bishundial that he will have to await another trial. The accused was represented by defence attorney Nigel Hughes.
The state's case meanwhile, was presented by Prosecutors Mandel Moore and Seeta Bishundial.
Khan, 56, formerly of 20 Grove Public Road, East Bank Demerara (EBD), was fatally shot in the neck by one of four robbers during an attack carried out at Busby Dam, Craig, EBD.
Other occupants of the vehicle Khan was driving, also sustained injuries after the bandits pounced on them.
Khan died instantly from the injuries he sustained on November 6, 2012.
Around the Web