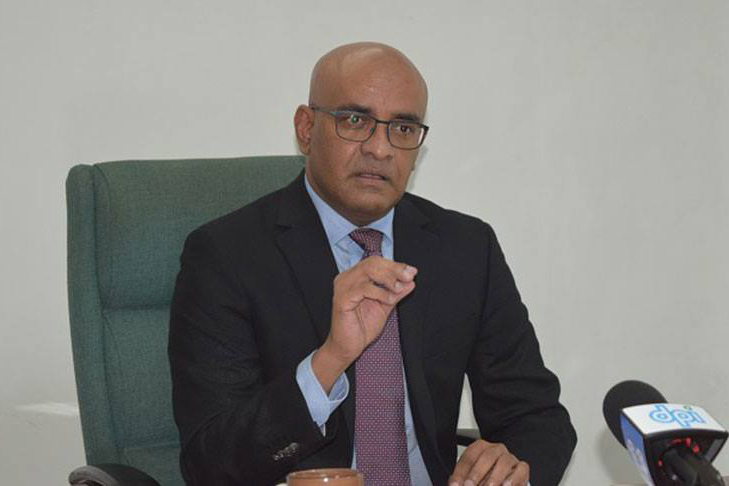 Opposition Leader Bharrat Jagdeo yesterday questioned government's reluctance to audit the US$460 million claim in pre-contract costs by ExxonMobil's subsidiary and its two partners.
"What surprises me is that ExxonMobil says that we are open to the audit… but it is still not done," Jagdeo yesterday told a press conference.
He also said that while he has no immediate plans if government refuses to commission an audit, should his party return to government it would ensure that one is done.
"It has to be done and we will do it," Jagdeo stated.
"Imagine the people said they will do the audit. So, the government should have said, 'Okay, we will get a firm to [do it] and at your cost, too. Whatever the figure is we will put that figure in the agreement.' Easily that could have been done because they had no push back from the company. But the people said US$460 million and [Minister of Natural Resources Raphael] Trotman said 'Put it in there, put it in.' They already made a huge fundamental mistake by putting it in the contract a figure that was not audited. The company said they are not unwilling to have this done all you have to do is ask our own government…I wish they would do it," he added.
Jagdeo said that while the figure submitted by ExxonMobil and partners reflected purported costs prior to its discovery in 2015, he could not comment on if he believes the invoice is accurate.
"If I say that to you, I will be just like Trotman. You have to submit the invoices. You have to say here is a contract for the rig. The government of Guyana then says 'Yes, we can verify that it cost US$30 million.' Then the next questions should be 'Was this competitively sourced? Could we have gotten it for US$20 million, because the going rate at that time was US$20 million?' Then: Was it a company related to the oil company? Because if it was related, the cost could be inflated," he stated.
"These are questions for everything that comes out of every expenditure of the company. At the end of the day, you aggregate and come up with a figure and you say, this is real because we have asked the questions and have gotten the answers," he added.
Chartered accountant and business analyst Christopher Ram has suggested that the claim being made by the companies is overstated by at least US$92 million. "I say at least because not all expenditure is recoverable as pre-contract costs. For example, Esso had close to US$5 million in current assets, mainly in inventory, which will be expensed as they are placed into use and consumed. Only at that point should they be expensed as contract cost. Therefore the amount should not be included as pre-contract cost…," he wrote last month in his Stabroek News column. "Unless Esso, Hess and CNOOC/Nexen can come up with answers and explanations to what appears to be a very significant difference between the amount claimed and what the financial statements at a gross level reveal, they will encourage suspicion of grave impropriety in overstating their claim," he added.
Meanwhile, Jagdeo yesterday also maintained that several questions he has posed both to government and ExxonMobil have gone unanswered, including about the US$18 million signing bonus received from the oil major.
"When I come to a meeting, I am not a dodo," he said.
"I ask about whether the feasibility has been looked at, if it is wise to look at any of the wells to sustain production. I asked, 'Have we studied this…?' They said no," Jagdeo said.
Jagdeo and the Ministry of Natural Resources have been at loggerheads over Jagdeo's claim that government has been secretive of oil and gas sector matters.
"At the request of the Minister of Natural Resources, ExxonMobil has been providing updates and briefings to the Leader of the Opposition at his office. Bharrat Jagdeo's claim that the government is operating in secrecy when it comes to developments in the oil and gas sector is unfounded and clearly made to score cheap political points," the Ministry of Natural Resources said in a recent statement in response to Jagdeo's criticism.
The Ministry noted that all oil contracts and its Local Content Drafts have been posted online even as the ministry has been holding public outreaches in communities across the country to keep residents up to date about what is happening in the sector.
Jagdeo responded on Tuesday with his own statement, in which he listed examples of government's reticence over the last two years.
He cited the calls for the release of the ExxonMobil contract, while noting that they were met with several excuses before public pressure finally saw the release of the contract.
He also mentioned the secrecy over the signing bonus, while charging that government hid it in an account outside of the Consolidated Fund and outside of the reach of the Auditor General.
He further said the government has failed to say who was involved in finalising the renegotiated ExxonMobil contract, whether there was a Cabinet-approved negotiating brief and why the IDB-funded advisor Dr Jan Mangal was not included in the renegotiation.
Jagdeo added that for three years Guyanese have been told about legislation for the Sovereign Wealth Fund coming to the National Assembly. "…But it is now 2018 and we are still nowhere closer.  The same goes for the promised Local Content Policy and we have seen responsibility for this shift from one minister's desk to another. What is happening now is that government is name-dropping titles of international agencies to somehow lend believability to the notion that they are addressing the matter diligently.  Guyanese are still unaware about what the final drafts of these documents will look like and when they will be ready," he said.
Jagdeo also questioned what has become of the announced US$500M onshore supply base that was supposed to be erected at Crab Island, in the Berbice River, while noting that the deadline has passed and nothing has happened at Crab Island.
He also said Guyanese were only recently told about a natural gas project, despite the fact that a feasibility study had not been completed. "When will project come on stream? The site for the project has become a state secret.  These details are not available to Guyanese," he said.
Additionally, Jagdeo said while the Ministry's comment regarding briefings provided by ExxonMobil creates the impression that there have been regular briefings provided to the parliamentary opposition, there have been three, at most, in the last three years and when questions have been asked, ExxonMobil has indicated that it cannot release the information and redirects the opposition to the government. "The facts are clear. Guyanese have been kept in the dark. No amount of obfuscation will detract from this," he added.
Around the Web