Surinamese national Omar Williams was yesterday sentenced to 12 years behind bars for the unlawful killing of former disc jockey (DJ) Sheldon Cheddie, whom he shot multiple times.
Throwing himself at the mercy of the court, Williams, who was initially indicted for murder but pleaded guilty to the lesser count of manslaughter, told the court that he was sorry for his actions even as he begged the dead man's family for forgiveness.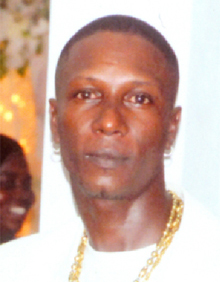 With his plea, Williams accepted responsibility for unlawfully killing Cheddie on September 9th, 2013.
State counsel Lisa Cave said that on the night of the killing, Cheddie had been drinking with friends at a Tucville snackette, where the accused approached them.
She said the man then whipped out what appear-ed to be a handgun, which he used to fire several shots at Cheddie.
Cheddie was immediately rushed to the George-town Public Hospital, where he was pronounced dead on arrival.
Given a chance to speak, Williams, who confirmed the facts related by the prosecutor, said he was sorry for what he had done, before adding that in his many moments of reflection since the crime he has questioned his actions.
"I have asked myself many times what I could have done differently that night, knowing that I played a part in Cheddie's death," the 46-year-old father of seven said.
He then asked the court, state and the dead man's relatives to forgive him.
Meanwhile, his attorney, Mark Waldron, asked the court to consider that his client had accepted responsibility at the first given opportunity, thus saving the court considerable time and the state financial resources in otherwise having to conduct a trial. He too begged the court to be merciful to his client.
In handing down the sentence at the High Court in Georgetown, Justice Sandil Kissoon started at 25 years, from which he deducted a third for the man's guilty plea, leaving a total of 16 years. The judge then made further deductions after considering both the mitigating and aggravating circumstances and the time Williams would have since spent on remand awaiting trial. The judge then announced that Williams would have to serve 12 years in jail.
Around the Web