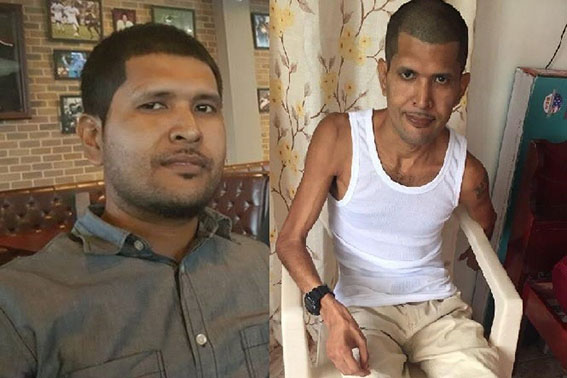 Afflicted by an unknown illness, former sports journalist Rene Stoby is now scheduled to meet with Amyotrophic lateral sclerosis (ALS) and Muscle Movement Disorder Specialists of the John Hopkins Hospital, in the United States, next month.
Stoby's case gained national attention in recent weeks after his older brother Reuben Stoby started a GoFundme page in the hope of raising the necessary funds to have Rene seen by specialists.
Sharing an update with Sunday Stabroek, Reuben was please to say that Rene has an appointment  scheduled for July 3rd at John Hopkins Hospital, in Maryland, where he will be meeting with the ALS and Muscle Movement Disorder Specialists.
He further noted that as of Friday, the family had been able to raise US$5,000, which is half of the total costs associated with the visit.
"We are still seeking government's assistance for some of the expenses, but we had to get a referral letter from the neurologist at Georgetown Hospital and documentation from John Hopkins Hospital. We have received the required documents from John Hopkins and expect to get the referral letter from the neurologist in Guyana early next week," Reuben explained.
Nevertheless, the older Stoby said that persons continue to show their support. "Today, Rene was given a check for $132,000 from his former employers Ansa McAL, and was also paid a visit by Social Cohesion Minister Dr. George Norton, who brought him a hamper. The kindness and concern today have helped to lift our spirits and make us optimistic that we can reach the target in time for when the hospital will be requiring a deposit," Reuben explained.
"So far, individuals, businesses, churches and one Government Ministry (Social Cohesion) have made monetary and other donations. To also push forward with the fundraising, the family and friends of Rene will be having a barbecue at Victoria Road Plaisance, across from the Guinness Bar, on June 16th. Tickets cost $1,000," he added.
Rene, who had been previously employed by the National Communications Network (NCN) and the Guyana Times, has for the past two years been battling a mysterious illness, which has severely affected his ability to speak and walk.
His ordeal began when he started experiencing muscle spasms, which initially slowed down his mobility and affected his speech. These spasms were said to have been extremely painful.
Doctors were baffled by Rene's condition, but subsequently diagnosed the condition as Parkinson's disease, Dysphagia, Hypophonia, and then ALS or Lou Gehrig's disease.
However, in July, 2017, Rene was seen by doctors at Montefiore Medical Center in New York and after two weeks of testing and medical observation, both Parkinson's disease and ALS were ruled out. The medical experts were still not able to make a specific diagnosis, even as Dystonia was suspected.
Rene has since lost the ability to walk properly on his own, has completely lost the use of his left arm, and his speech is now completely gone.
He still maintains cognitive brain functions and is able to communicate via texting. Nevertheless, his condition continues to deteriorate, worrying his family more with each passing day.
Persons interested in making a donation to Rene can do so by donating directly to the GoFundMe account online at https:// www.gofundme.com/raising-for-rene or Republic Bank Account: 515-975-1.
For further information, interested persons can call: 592-697-8322 or 592-663-2918.
Around the Web