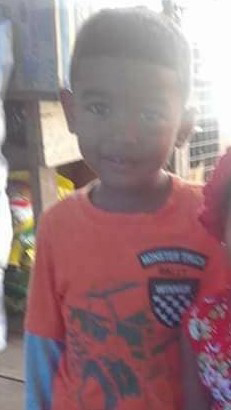 The body of a six-year-old child was on Tuesday evening found in the Pomeroon River, hours after he reportedly fell overboard while washing his feet.
Dead is Ramesh Kanhai, a student of Abrams Creek Primary school and of Abrams Creek, Upper Pomeroon River.
Stabroek News was told that the incident occurred around 11.45 am on Tuesday, opposite Kanhai's school during the lunch break.
Kanhai's body was discovered around 8pm.
Reports are that Kanhai and an eight-year-old school mate were playing under a health post which is located a short distance from the school when Kanhai related to her that he was going to wash his feet.
He left and went to the health post landing shortly after which the school mate noticed Kanhai in the water with his hands in the air.
As a result, she began to scream which alerted teachers, who were at the time in the upper flat of the school having lunch.
The teachers rushed to the landing by which time Kanhai had already disappeared. A search party was launched and his body was subsequently retrieved from the Pomeroon River.
The incident has raised questions about the supervision of children by teachers.
Investigations are ongoing and an autopsy will be conducted on Kanhai remains tomorrow.
Around the Web