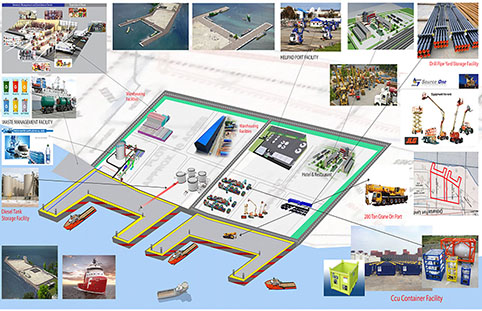 Source One Supply Oil and Gas Marine Supplies Chief Executive Officer Terry Singh has said that his company's proposal for an onshore oil and gas facility has not received any substantial feedback from government since last year.
Speaking to Stabroek News, Singh explained that after the proposal to develop the facility at Vreed-en-Hoop was sent last August and additional documentation was dispatched three months ago to different government agencies, there has been no response.
Source One Supply Oil and Gas Marine Supplies is a subsidiary of Japarts.
"Our company is serious about local content in the oil and gas sector. We are not talking about indirect and drips and drops benefits for Guyanese, but a mega-project that will create in upwards of 300 jobs," Singh noted.
Singh explained that documents were sent to the Ministry of Natural Resources, the Ministry of the Presidency, the Guyana Office for Investment and the Guyana Lands and Surveys Commission detailing the company's plan to construct a US$120 million facility.
"Everything is set and ready and we are just awaiting the approvals from the government and it's taking a lot of time, and while other people are setting up and getting prepared for the oil and gas industry we are left on the back burner," Singh said, while stressing that such a facility is needed in the long term for the industry as it will assist in garnering additional revenue for the country.
Singh noted that he is concerned that no progress has been made despite almost a year passing. He added that while he understands that since the oil and gas industry is new, the implementation of such a large project would take a while he said it shouldn't be taking as long as it is currently.
Singh had previously told Stabroek News that the company had received very good feedback from international companies and the local private sector but the government's response had not been tangible.
International companies have also expressed interest in forming a consortium to fund the construction of the project, and in March, after the inaugural Guyana International Petroleum Exhibition and Summit (GIPEX), he said "big" companies showed "a lot of interest."
The shore base facility is intended to make provisions for port facilities, a fuel farm, a warehouse packaging facility, a mudplant facility, a cement plant, a helipad facility, drill pipes repair and storage facility, waste management service, a fabrication and welding workshop, and supply vessel and crane services, among other things.
Singh had explained that supplies will be garnered from companies around the country and will be stored and distributed at the centre.
"Nobody on Regent Street will be able to supply Exxon[Mobil] regardless of how big businessmen they are. They can't. But a facility of this kind can. You have nearly 100 vessels coming and going for products daily along with the incoming FPSO [Floating Production, Storage and Off-loading Vessel]. There will be vessels coming along side it, collecting the oil to carry to different parts of the world on a schedule. But when a ship is traveling so long, they will need supplies, such as fuel, waste management, food, parts, oil, battery, medicine. They will need rope, cables, you name it. Everything on land they will need," he had explained.
Singh had explained that the aim of the project is to develop a venture that will be able to bring value to the operators in the emerging oil and gas sector, along with Guyanese themselves.
"Essentially, we intend on effectively converting 2.4 million square feet into a showcase for what can be done through inclusion, local and transnational partnership. Our research has demonstrated that Source One will have an immediate impact on the local economy," he had said, while adding that the venture would create more than 400 jobs directly and about 1,000 indirectly, along with "adding long term value to the nation's GDP."
Singh said that if a facility of the sort isn't built there, then the citizens of the country are less likely to benefit from the emerging oil and gas sector. If given the go ahead and blessings from the government, the project can be completed within 26 months, he had noted.
ExxonMobil is expected to begin production here in 2020.  In separate projects, Muneshwer's and John Fernandes Limited are providing onshore services to ExxonMobil's operations.
Around the Web