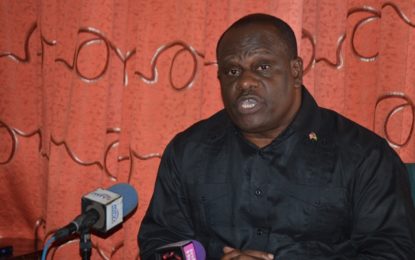 Impending restoration projects, which are being spearheaded by various Georgetown constituency councillors at a total cost of over $57 million, are expected to see residents of the beneficiary communities make up 50% of the work force.
Town Clerk Royston King announced at a press conference yesterday that the City Council has received $57,688,022 from the Ministry of Communities for the execution of the projects in 12 of the 15 constituencies of Georgetown. 
The sum is part of the $200 million budgeted in 2018 for the improvement of Georgetown. King explained that in December, 2017, the Council decided that $75 million of the budgeted sum would be dedicated to "much needed works in local communities."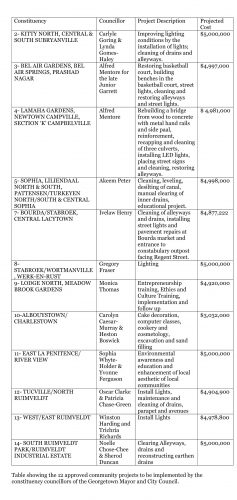 Councillors for each of the 15 constituencies were invited to submit proposals for projects, totalling $5 million. So far, 12 submissions from 12 constituencies have been received and approved by the Ministry. (Constituencies 1, 6 and 15 have not yet had projects approved.) The majority of the projects focus on the clearing and desilting of drains and alleyways as well as the installation of street lights.
The Council has agreed to the appointment of a special committee to disburse, manage and evaluate the projects. This committee comprises Mayor Patricia Chase-Green, Chairman of the Finance Committee Oscar Clarke, Chairman of the City Works Committee Phillip Smith, City Engineer Colvern Venture and City Treasurer (ag) Sharon Harry-Munroe.
Each project should be examined and approved in writing by the committee, which upon request will make 10% of the total project estimate available to identified contractors.
According to King, contractors were sourced by councillors who provided three different estimates with each project proposal. The contractors are to be paid upon examination and satisfaction of projects by the committee.
Specifically, the City Engineer must sign off all relevant documents upon the completion of all projects in the constituencies. An officer within the City Treasurer's Department is also expected to be specifically assigned to deal with payment arrangements to contractors which will be made 5 days after the project completion. It was noted that 50% of the work force for the projects should be made up of residents of the communities.
Some of the more unique projects approved include skills training projects in Constituency 10 and Constituency 9. Constituency 10 councillors Carolyn Caesar- Murray and Heston Boswick have applied to have 12-week training programmes in Cake Decoration, Computer Skills, Cookery and Cosmetology implemented, while Constituency 9 councillor Monica Thomas intends to have Entrepreneurship training and Culture and Ethics Training in her constituency.
The projects are expected to begin "soon," King said.
Around the Web