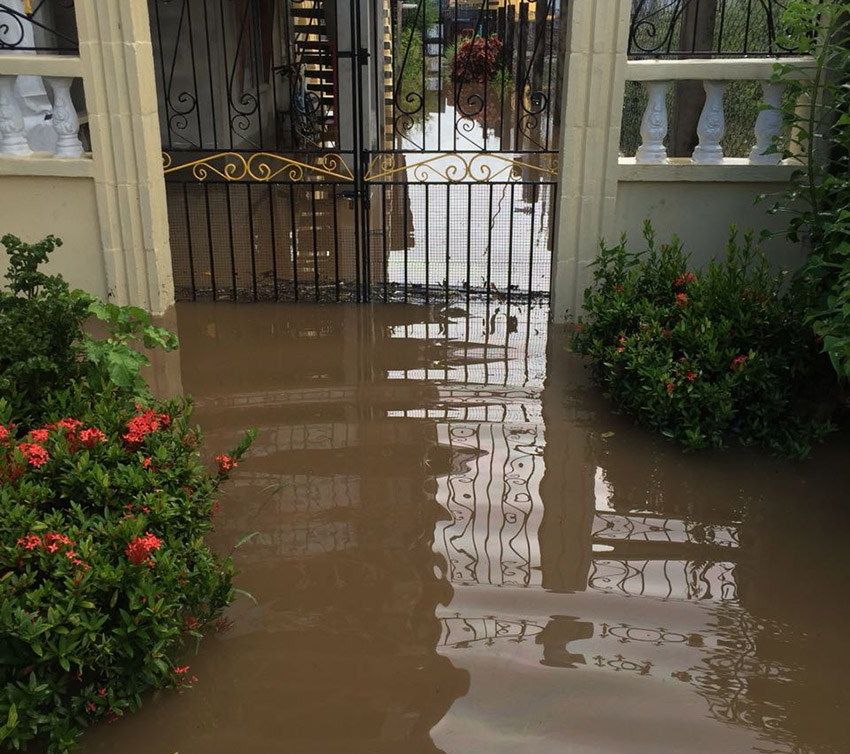 Contractor Deowdat Singh is accepting partial blame for the overtopping of the San Souci, Wakenaam river defence, which resulted in a flood on Sunday, saying he did not expect the unusually high tide.
Residents of San Souci and surrounding villages were greeted with several inches of floodwater early on Sunday morning due to the overtopping. The tide also reportedly continuously bombarded and eventually broke a section of the river defence.
However, speaking to Stabroek News yesterday, Singh said that the situation is being grossly exaggerated but he is taking responsibility for what happened. He explained that what occurred was mostly because of overtopping and sand and bricks that were used to construct the defence being washed away.
"It wasn't a breach. It was just the tide was too high. We work [with] a tide book and when we checked the tide book, we built the wall for what we were expecting and it came up far more higher and we didn't cater for that," Singh said, while emphasising that he is taking the brunt of the blame.  Spring tides had been announced for this period.
Singh also noted that he has related to the residents that he will assist them with compensation for their damaged furniture and appliances and he is also working with them to ensure that the affected areas are thoroughly cleaned.
"We are working right now on it and we just had to put a couple of boulders and block it off and it's going good," Singh added, while pointing out that he is going to finish the permanent rip rap structures by the middle of next month as they are currently 50% completed. 
Also speaking to this newspaper was Director General of the Civil Defence Commission (CDC) Lt. Col. Kester Craig, who confirmed that the water has completely receded from the land and residents are currently cleaning up.
He also confirmed that remedial works were completed by the contractor on Sunday and when the tide rose again there was no overtopping or flooding, which is a clear indication that the emergency works were successful.
Craig pointed out that the CDC, in collaboration with the Regional Democratic Council (RDC), distributed sanitation and cleaning supplies to the affected residents and presently the RDC and the Neighbourhood Democratic Council are doing further assessments.
Chairman of the Wakenaam NDC Sheik Ahmad also confirmed to Stabroek News that normalcy has returned to the communities even though residents are busy cleaning their homes.
"They seem to be doing a more careful job and we are more diligent with them in terms of checking to ensure that they are working properly," Ahmad said.
Approximately 37 residents were affected by the flood and more than a dozen of them suffered major losses.
Resident Zamar Zaman had related that when he went home and saw his entire yard and house inundated, he nearly fainted. He said the flood damaged his refrigerator, a freezer, a washing machine and other appliances and he estimated that he had suffered more than $250,000 in losses.
Around the Web