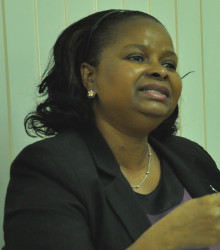 Public Health Minister Volda Lawrence today warned senior employees to look out for police detectives and Finance Ministry internal auditors, who will soon begin investigations into the "misappropriation of funds and the blatant attempts to steal" public funds, a release from the Ministry of Public Health said today.
In a frank discourse with senior MOPH officials, the Public Health Minister raised questions about "blatant attempts to steal" and other dishonest acts perpetrated by MOPH employees, the release said. Lawrence said the police and officials from the Ministry of Finance will carry out open investigations into ongoing corrupt practices by staff members.
"Fraud has been ongoing a long time at the Public Health Ministry", Lawrence said.
Cautioning programme managers, who appeared stunned by her revelations, Lawrence said, "I am advising you to check what you sign and ensure it meets the regulatory requirements and it is in keeping with your programmes."
Lawrence reiterated, "I will not compromise on the issue of accountability within the public health sector'.
The release said that the Minister did not hide her distaste at employees who have been "sabotaging the Ministry left, right and centre." Some workers have even been sending missives on internal MOPH matters to persons outside the Public Service structure, Lawrence said.
She said that letter writers will shortly have the opportunity to "bring the evidence" to support their claims.
Less threatening, but equally problematic she said is the issue of insubordination, which is rife among some categories of employees.
"Some parts of the MOPH train have been derailed (and) the madness has to stop,"  Lawrence said.
Around the Web