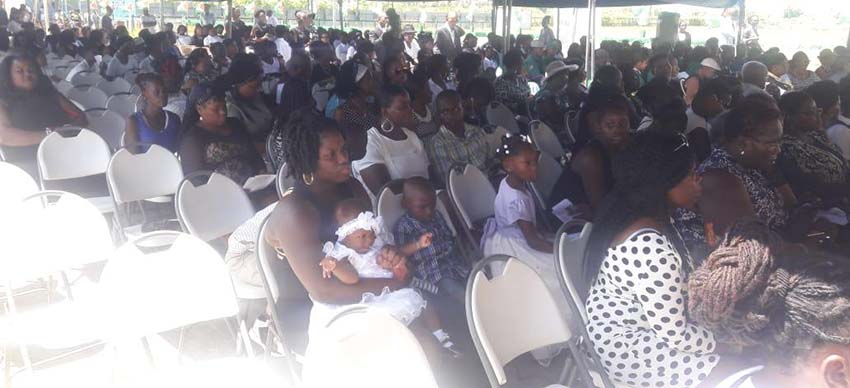 Scores of mourners flocked the funeral service as four-time gold medalist at the National School's Swimming, Cycling, Track and Field Championships, Beyoncé Ross rode off into the sunset for the final time as she was laid to rest at the Rose Hall Town Cemetery yesterday but her memory will live on with a foundation to be established and memorial cycle race to be held in her honor.
Holding back tears, members of the family were consoled by members of the current administration, notably Minister of Social Cohesion with responsibility for Culture, Youth and Sport Dr George Norton, Director of Sport, Christopher Jones, Member of Parliament John Adams, Sports Coordinator of Region Six, Godwyn Allicock, Mayor of New Amsterdam Winifred Haywood, Mayor of Rose Hall Vijay Ramoo, Guyana Teacher's Union President Mark Lyte, teachers, students, villagers and curious onlookers.
Social media played a vital role as Norton and the Ministry of Public Health learnt of her illness via the Facebook forum and indicated that they had been in contact since.
Norton said that the young lady was identified as a bright prospect and her potential was seen at a very young age. He added that Ross, despite her illness, always mustered the strength to smile but eventually was called to the creator.
Norton said the ministry had provided partial funding to offset expenses while Adams said the Public Health Ministry was in the process of "obtaining her biometric information in an effort to obtain a visa to the United States where she would have visited for treatment."
With the young woman's classmates marching into the Area "H" Ground to chants of "gone too soon" the large tarmac was transformed into a sea of sadness with even police officers escorting and maintaining order unable to hold back tears.
One teacher said in her relationship with the 15-year-old Lower Corentyne Secondary School Student, she was always jovial and a team player ready to reach out whenever as she watched her transform from a young child into a teenager who had aspirations of becoming a chef based on her father's good cooking or a teacher.
Another teacher who was with Ross during Nationals said while Ross achieved three medals in cycling, she was also integral in the district winning the 4×100 girls under 16 gold medal.
While her oldest brother Jamal called on the government to help in whatever way they can to "probably host a football match or cricket match in her honor and help set up a foundation in her honor," Allicock answered the call and pledged to dedicate a cycling meet in her memory while stating that two students, one from Port Mourant Primary and Lower Corentyne Secondary will be the first recipients of the Beyoncé Ross Foundation.
Ross had participated in the 2017 Nationals Championship where she won four gold medals but in less than four months, the teenager was experiencing vomiting and severe migraines. She was rushed to the hospital on numerous occasions but to no avail until the she met with two specialist doctors. Ross was diagnosed with a tumor in her brain but was deemed noncancerous however her health continued to deteriorate.
Ross slipped into a coma in June and was deemed brain dead before passing away on June 11.
The talented teen's relatives received condolences from members of various sporting disciplines including the Berbice Cricket Board, National Cycling Coach Hassan Mohammed, Flying Ace Cycling Club and others.
Around the Web