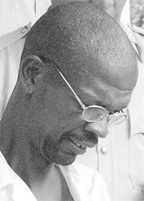 Death row inmate Mark Samuels, who was found guilty of his wife's murder in 2009, had his conviction and sentence set aside by the Guyana Court of Appeal on Tuesday.
The Appellate Court replaced the conviction for murder with a conviction for manslaughter, for which it imposed a 20-year sentence on Samuels.
The court also ordered that the time Samuels has served from the date of his conviction until now be deducted from the 20 years.
Chancellor (ag) Justice Yonette Cummings-Edwards, Chief Justice (ag) Roxane George-Wiltshire SC and Appellate Justice Rishi Persaud presided over the appeal. Hearing of the case commenced late last year.
Samuels had moved to the court to ask that his conviction for the 2007 murder of his common-law wife, Chandrowattie Lalla, be quashed and that the capital punishment sentence be varied because of its "severity."
Among his grounds for appeal were that the trial judge misdirected the jury by failing to sufficiently direct or warn about oral statements he allegedly made and the manner in which it needed to treat with such evidence by the police.
Through his attorney, Sonia Parag, he had also argued that the mandatory death penalty, as existed in 2009, contravened Article 141 (1) of the Constitution, which provides that "No person shall be subjected to torture or to inhuman or degrading punishment or other treatment."
Parag argued that the only evidence against her client was a police constable's word that he allegedly took an oral confession, which Samuels has vehemently denied ever giving.
According to her, the constable's evidence was corroborated by nothing else of evidential value.
Parag emphasised that in such circumstances, the trial judge needed to sufficiently direct and warn the jury about how such statements were to be dealt with but this was not done.
Resultantly, she had submitted that the case against Samuels was inherently weak and tenuous and ought not to have been sent to the jury. She contended that since it was, the judge should have adequately directed the jury as to the dangers and deficiencies of relying on the alleged oral statement, where no other evidence existed to corroborate it.
Counsel representing the state had submitted that Samuels' sentence was imposed before the Criminal Law Offences Act was amended in 2010 to give judges a discretion as to whether to impose the death sentence. It had also been emphasised that at the time the capital punishment was imposed upon the appellant, it was the mandatory sentence for a conviction of murder.
Samuels was convicted and read the death sentence by trial judge Justice James Bovell-Drakes on November 9th, 2009.
It had been the state's case that he had hit the woman sometime between November 23rd and November 25th, 2007.
Reports then had said he was discovered sleeping beside the woman's decomposing body in their Lot 99 Grove Squatting Area home.
Around the Web