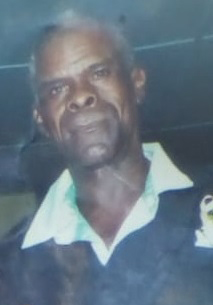 The police in Berbice were yesterday continuing their manhunt for Lionel Thomas, the Rose Hall, Corentyne man who allegedly wounded his ex-wife and pregnant daughter and then set their Babu John, Port Mourant, Corentyne house on fire on Wednesday evening.
Thomas, 63, before escaping, allegedly told his ex-wife, Omawattie Alvin, 47, that he would return to kill her. As a result, Alvin has said she is fearful for her life and pleaded with the police to make every effort possible to arrest the man.
Commander of 'B' Division Lyndon Alves yesterday assured that ranks in Berbice are making every effort to locate and arrest Thomas. "We have since tried relentlessly to locate the suspect but so far we have come up empty handed," he said.
Thomas and Alvin were married for some 28 years and Alvin has said that he was often physically abusive to her during that time. The couple separated in 2016, when Thomas reportedly chopped the woman about her body.
Alvin told this newspaper that after being released from prison, Thomas has continued to threaten her whenever he sees her. As a result, she said she has made frequent reports to the police.
Alvin alleged that Thomas had threatened her with a cutlass at the Rose Hall market last Saturday, after which she filed a police complaint. Thomas was subsequently arrested on Monday.
The police had asked Alvin to return to the station to give her statement on Wednesday. It was when she was returning home from giving her statement on Wednesday evening that Thomas launched his attack, injuring both her and their daughter, Leana, who is seven months pregnant.
In recalling the attack, Alvin told this newspaper that she heard footsteps behind her. "Me hear, 'Weh side you a come from? Every time you a make me get lock up! Me go kill you here today!' He scramble on pon me and a wall divider went deh fall down and he pull out a long knife and bore me a me belly here," she said.
Upon hearing the commotion, Leana rushed downstairs and in a bid to rescue her mother she grabbed the blade of the knife, resulting in her fingers being cut. Alvin had said, "After me daughter come, he throw me down and take one bicycle bar and start lash me in me head and he go fa take one champagne bottle and lash me in me head and me daughter throw she self [on] top me and she get the knock."
After hitting their daughter, Thomas allegedly grabbed the broken bottle in a suspected effort to slash Alvin's throat. "Me run out and he still trying for knock me and he run behind me and some girls went there and them say, 'Aunty, abie call police,' and when he hear he run," she had added.
Alves explained yesterday that Thomas was released on Wednesday evening since the 72-hour period in which police could detain him without charge had expired. "The police cannot violate a citizen's fundamental right [to] liberty, so based on it being a threat and the 72 hours had expired, we are bound by law, unless we are given an extension by the authority to hold him beyond that time," he said.
However, it is still unclear why the police would have only requested the woman to give her statement on Wednesday, when they had reportedly arrested the suspect on Monday for a report made on Saturday.
Up to yesterday, Alvin remained in hiding, since she is scared that Thomas will carry out his threat, particularly in light of fatal attacks on women in recent weeks at the hands of their partners or former partners.
Around the Web