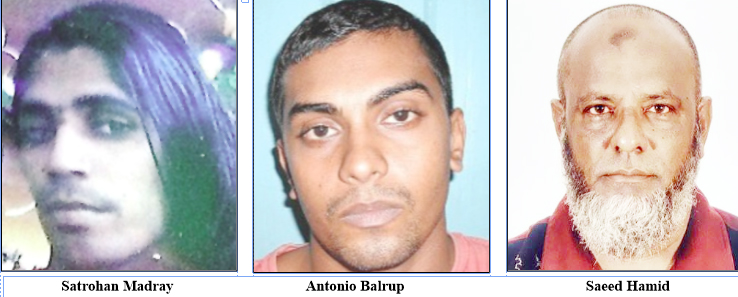 The call records from the phone of missing Crabwood Creek pensioner Saeed Hamid were what led investigators to arrest the two men who police say led them to his suspected charred remains last Wednesday.
A police source close to the investigation told Sunday Stabroek that police traced the calls to Hamid's phone number to the person who operates the temple at Rosignol Village, West Coast Berbice, where Hamid, 65, is believed to have been killed.
Two former murder accused, Satrohan Madray, 34, of Bennet Dam, and Antonio Balrup, of Edinburgh, East Bank Berbice, reportedly took police to the temple, where they reportedly claimed that the missing man was killed and his body was burnt to destroy any possible evidence to link them to the murder. Madray reportedly operates the temple, which is attached to his house.
Commander of 'B' Division Lyndon Alves said on Friday that the remains have to be sent for DNA testing to confirm that they are Hamid's.
A reliable police source on Friday had told this newspaper that the two suspects were "blaming" each other for dealing Hamid a blow to his head. However, the source noted, that both men had reportedly confessed to luring Hamid to the West Coast of Berbice.
Hamid was last seen leaving his Lot 41 Queenstown, Corriverton house in mid-April.
He had told a friend that he was heading to Rosignol Village, West Coast Berbice, to transact some business. His friend had said that a man had purchased some items from him and Hamid wanted to collect the money owed to him.
In April, this publication spoke with the hire car driver who picked up Hamid from his home. That driver had noted that he dropped Hamid off at the Berbice Bridge entrance, where he boarded another vehicle, which was waiting for him. "Right through someone calling him on his phone and he telling them he coming, he tell the person when we left, when we deh Rose Hall (Town) he tell the person on the phone he at Rose Hall and then when we about to meet the bridge, the person call back and like them say they sending a car for him," the driver, who spoke on condition of anonymity, had said.
Around the Web