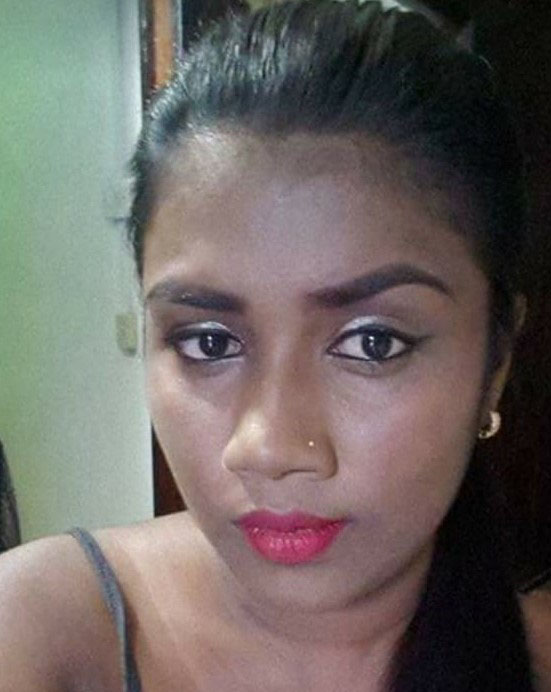 Doneeta Ramlakhan, the young Guyana Energy Agency (GEA) fuel inspector who survived the Zorg Public Road accident that claimed the life of her co-worker last Wednesday morning, is now haunted by the events, which she says remain vividly in her memory.
Her co-worker, Shankar Ram, called 'Kevin', 25, was the driver of the GEA vehicle, in which Ramlakhan, also known as 'Varsha,' 23, was travelling at the time of the accident. He reportedly died on spot.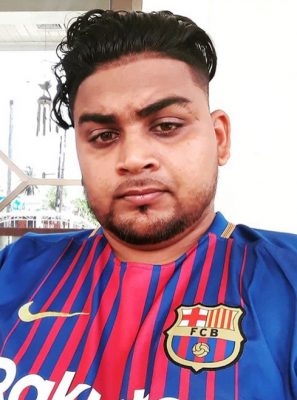 Ramlakhan explained that late last month she and Ram travelled to Essequibo, where they were stationed at the GEA, Golden Fleece base. She said they were scheduled to return to Georgetown on Tuesday.
At the time of the accident, Ramlakhan said they had just visited a friend, where they spent the evening and they were returning to the Golden Fleece base.
"You know we finish work early that day (Tuesday) and we were gaffing and laughing in the afternoon…we went and get dinner and we stop at a friend, who live in Essequibo. I am not sure about the village name but we were there most of the night. We were talking and gaffing and then it was pretty late so I told him that I am tired so we should probably get going," Ramlakhan related.
She said while she cannot say what time she and Ram left the friend's place, she is sure it was very late as she was very sleepy.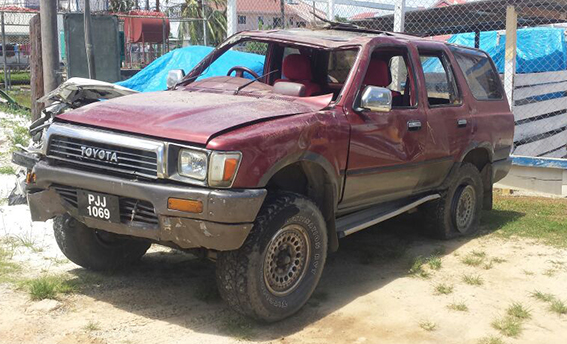 "Usually when I am in the vehicle, I would throw down the front seat to lay down inside and I would have on my seat belt", Ramlakhan said. She further explained, "Whilst we were going I was in a [semi]-conscious state and I barely heard him saying "brakes." It's like I heard him saying that but I am not sure…."
She said that when she heard the vehicle swerve, she attempted to put her seat back upright.
"By the time I could even get up, we already hit something, I don't know what it is we hit but I just heard this loud thing and I got black out after that," Ramlakhan recalled.
Ramlakhan sustained mostly head injuries as a result of the accident. She discharged herself from the hospital last Thursday. She is currently recuperating at home and noted that she is still experiencing swelling to the neck as well as pain in her head and ears.
"I just wish it never happen… he left us in shock… that's something I would always remember," a weeping Ramlakhan related.
She said when she woke up around 7 am the morning after the accident, she was in the hospital, where a nurse told her that she had fallen. "Then I saw somebody (a visitor) there and I asked them what happened and then they told me that…we had an accident and then I asked them where is Shankar and they said that he didn't make it," she cried.
Ramlakhan said during the drive back to the GEA Golden Fleece base, she and Ram were not in conversation since she was sleepy and was "in and out of short naps." However, she declared that Ram was not drunk.
The police had said that Ram was travelling north along the western side of the Zorg Public Road, Essequibo Coast, when he lost control and hit a utility pole at around 12.15 am on Wednesday.
The impact of the collision caused the vehicle to flip over, and Ram was reportedly flung out and onto the parapet, while Ramlakhan remained trapped inside, the police had added.
Ram remained on the road until the accident was discovered by patrolling police ranks. They were both picked up and rushed to the Suddie General Hospital, where Ram was pronounced dead on arrival. Ramlakhan was hospitalised at the said institution.
An autopsy on Friday confirmed that Ram died as a result of multiple injuries as a result of the accident.
Ramlakhan said the accident is all she has thought about since she regained consciousness. She believes that it will remain with her for the rest of her life. "I…wish I could have done something," she cried.
She related that she had known Ram for over a year and they shared a very close relationship since they would regularly travel out of town regularly as part of their job.
"He [was] always full of his self, always telling you we will work today, make sure we get everything in order. He always just funny. Just like make trouble and a really nice person. We never had no argument, nothing," Ramlakhan recalled.
The GEA, in a press release issued last Wednesday, said Ram was an employee of the Agency since June, 2013.
Around the Web