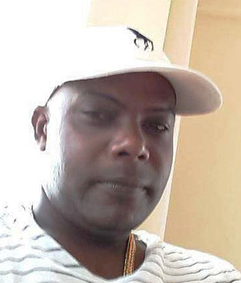 Eson Trim, the Guyana Defence Force (GDF) Coast Guardsman who allegedly struck down and killed a man more than one week ago was yesterday released on a total of $310,000 bail after he was charged with death by dangerous driving and another offence.
Trim, 28, a resident of South Ruimveldt, Georgetown is accused of driving motor vehicle, PWW 5680, in a manner dangerous to the public, thereby causing the death of Roopchand Ramkellawan on June 17.
He was also charged with driving under the influence of alcohol.
Trim denied the charges when he appeared before Magistrate Crystal Lambert at the Leonora Magistrate's Court yesterday.
The case was adjourned to July 28.
Trim was taken into custody following the accident which occurred along the De Willem Public Road, West Coast Demerara around 10.20pm on Sunday June 17.
Prior to being charged he was kept in the custody of the army.
The Guyana Police Force, in a statement, had said that its investigations revealed that Ramkellawan was crossing the road when the accident occurred. "The victim was crossing the road from south to north when he was struck down by motor vehicle PWW 5680, which was proceeding east along the northern carriageway," the statement had said.
After he was hit, Ramkellawan, 35, of Lot 4150 Tuschen Housing Scheme, East Bank Essequibo, was rushed in an unconscious state to the Leonora Cottage Hospital, where he was pronounced dead on arrival.
An unlicensed pistol with four live rounds was also found in the possession of the deceased, the police added.
An autopsy performed on Ramkellawan's remains revealed that he died as a result of multiple injuries.
Ramkellawan was the brother of popular chutney singer Mahendra Ramkellawan.
Around the Web