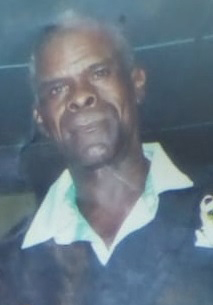 The Rose Hall Town, Corentyne man, who police were on the hunt for after he had assaulted his ex-wife and torched her Port Mourant home, last Wednesday, was found hanging from a tree in his village yesterday.
According to the police, the man, Lionel Thomas, 63, was discovered by a passer-by, hanging from a dunks tree yesterday morning, in Rose Hall Town, Corentyne. His body is presently at Ramoo's Funeral Home awaiting a post-mortem examination.
Thomas had threatened his ex-wife, Omawattie Alvin, 47, with a cutlass at the Rose Hall Market two Saturdays ago, after which she filed a complaint with the police. Thomas was subsequently arrested the following Monday.
The police had asked Alvin to return to the station to give her statement the following Wednesday. When she was returning home after giving her statement, Thomas launched his attack, injuring both her and their daughter, Leana Thomas, who is seven months pregnant.
In recalling the attack, Alvin had told this newspaper that she heard footsteps behind her. "Me hear, 'Weh side you a come from? Every time you a make me get lock up! Me go kill you here today!' He scramble on pon me and a wall divider went deh fall down, and he pull out a long knife and bore me a me belly here," she had related.
Upon hearing the commotion, Leana rushed downstairs, and in a bid to rescue her mother she grabbed the blade of the knife, resulting in her fingers being cut. Alvin added, "After me daughter come, he throw me down and take one bicycle bar and start lash me in me head and he go fa take one champagne bottle and lash me in me head, and me daughter throw she self [on] top me and she get the knock."
After hitting their daughter, Thomas had allegedly grabbed the broken bottle in a suspected effort to slash Alvin's throat. "Me run out and he still trying for knock me and he run behind me, and some girls were there and them say, 'Aunty, abie call police,' and when he hear he run," she had added.
Thomas, before escaping, had allegedly told his ex-wife that he would return to kill her. He allegedly returned the same day when Alvin had gone to another daughter's house, after receiving treatment for her injuries at the hospital, and torched the house, destroying all of Alvin's possessions.
Around the Web