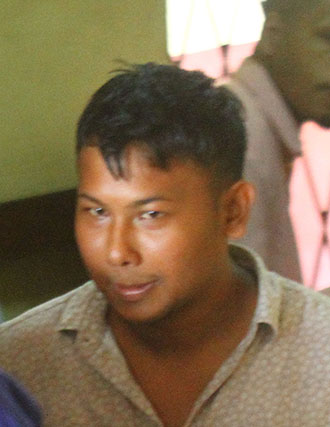 Charged two weeks ago with fraudulently obtaining money, with the promise of acquiring land, a real-estate agent was yesterday read five new charges of obtaining funds over $800,000.
Basdeo Persaud, 22, of Lot 305 Mon Repos, East Coast Demerara, made his way into the courtroom of Magistrate Fabayo Azore, who read the charges to him.
It is alleged that Persaud, on August 30, at Campbellville, with intent to defraud, fraudulently obtained $400,000 from Rohani Ramdeen, by pretending that he was in a position to obtain a plot of land, knowing same to be false.
In two other charges, Persaud was also accused of obtaining $50,000 from Ramdeen, on February 22, and February 24, respectively.
It was further alleged that Persaud on January 6, allegedly committed the said crime against Anurada Persaud, obtaining $260,000.
The final charge against the accused stated that on January 19, at Campbellville, he obtained from Anurada Persaud $50,000, by falsely pretending that he was in a position to acquire a plot of land.
Persaud denied the five charges levelled against him.
He was later granted bail in the sum of $150,000.
Magistrate Azore then adjourned the matter to July 25.
Around the Web