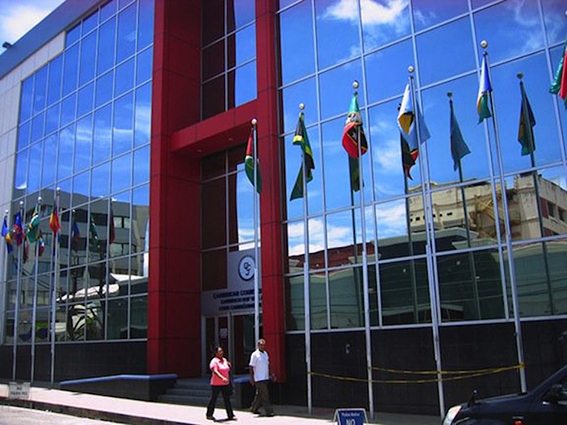 The Caribbean Court of Justice (CCJ) on Thursday heard arguments in the action mounted by a group of transgender women, who say that the law against cross dressing discriminates against them.
Their main contention is that the law, which prohibits cross dressing "for an improper purpose," is so vague in that it does not define what constitutes an "improper purpose," which ultimately leads to uncertainty.
Through their attorney Douglas Mendes SC, the group is arguing, among other things, that the cross-dressing law violates equality provisions in the Constitution and the right to freedom of expression.
However, attorney Kamal Ramkarran one of the attorneys representing the state, argued that the term, by its very nature, is not capable of definition and must remain broad.
He argues that it is within every adjudicator of the court to decipher "in the specific context, what is for an improper purpose."
In a unanimous decision in February of last year, then acting Chancellor of the Judiciary Justice Carl Singh, then acting Chief Justice Yonette Cummings-Edwards and Justice Brassington Reynolds upheld the ruling of former acting Chief Justice Ian Chang that both men and women are free to cross-dress in public once the reason for doing so is not an "improper purpose."
Transgender applicants Quincy McEwan, known as Gulliver, Seon Clarke, known as Angel Clarke, Joseph Fraser, also known as Peaches Fraser, and Seyon Persaud, also known as Isabella Persaud, had appealed the initial ruling to seek clarity on what constituted "improper purpose."
They appealed in part because of what they referred to as the inherent uncertainty in the terminology employed in the statute. 
In 2010, they were all charged and fined $10,000 each for wearing female attire for an improper purpose under Section 153 (1) (XLVII) of the Summary Jurisdiction (Offences) Act. 
That section makes every man who appears in "female attire" and every woman who appears in "male attire," in any public way or public place "for any improper purpose," liable to a fine of not less than $7,500 or more than $10,000.        
Their contention, too, has been that the law contravenes the prohibition of discrimination and the guarantees of equality and freedom of expression, under Articles 149 and 146 of the Constitution.
Mendes argued that while it is no offence for a man to dress in a different (female) attire once it is not for an improper purpose, and vice versa, the law seems to target men, especially the category to which his clients subscribe and identify themselves. He noted there has never been charges instituted against women who dress like men.
'Clearly discriminatory'
According to Mendes, the absence of clearly defined boundaries and guidelines of the term in question really vests in the police arbitrary powers of arrest, according to subjective standards which that individual police or court may employ regarding what constitutes an improper purpose.
Such a law, he contended, "is clearly discriminatory" and "offends anti-discriminatory laws."
Mendes asserted that the lower courts erred in the comparator they chose in determining that there is no discrimination as both sexes are being treated equally since the specific provision penalises both men and women for cross dressing. He, however, argued that the proper comparison to be made is between a man who dresses like a woman, and a woman who dresses like a woman. With this in mind, he suggested that a woman dressing herself "nicely," with the intention of committing a robbery, would not be guilty of an offence under Section 153, but a man who does likewise would be.
Noting that there are no facts before the CCJ as regards the Magistrate's Court proceedings, Ramkarran advanced the argument that what the appellants really want is to have Section 153 struck down for fear of being charged in the future with the said offence.
On a discussion of the perceived archaic nature of the law, Ramkarran argued that if it is so viewed, it is then for the necessary amendments and charges to be made by the Parliament and not for the court to strike it down.
Ramkarran argued that the phrase "improper purpose" is a broad term that is incapable of definition, and he added that any definition of it would make it mean something else other than what it is.
"Improper purpose cannot be defined. It is a wide phrase and purposely wide because it takes into consideration what is unlawful and what is wrong," Ramkarran declared. 
He said, however, that because one cannot find the meaning of the term, does not mean that it is unconstitutionally vague and cannot be so considered if applied to particular facts.
He said that an improper purpose can only be gleaned from the particular facts and context of each case.
Properly framed
Adding to the arguments for the state, Solicitor-General (SG) Kim Kyte-Thomas argued that the difficulty is not in the offence, but rather perhaps the manner in which the charge is framed.
Referencing the example of the charge of "conspiring to commit a felony," the SG said that the wording of that charge then goes on to say what exactly is the felony that a person or persons may have conspired to commit.
She said that once the charge under Section 153 is properly framed, then the defendant would know exactly what he/she has to answer to. She said that once this is known, then to allege that it is unconstitutional would be difficult.
She said that in such a case, the issue would no longer be with the offence itself, but rather the application of it.  According to her, the issue which must be dealt with, not only for the transgender community but for all citizens, is ensuring that the charges are properly framed so that persons know exactly what they are answering to.
Kyte-Thomas said that it is done for other offences and can surly be done for the one under Section 153. 
Having heard the arguments, the court announced that it will consider the appeal and notices will be sent informing both sides as to when the ruling will be delivered.
The arguments were heard by President of the CCJ Justice Adrian Saunders, in association with Justices Maureen Rajnauth-Lee, Jacob Wit, Denys Barrow and Winston Anderson.
Chancellor Singh had noted in the Appeal Court's ruling that it was not for the court to attempt a definition of a broad term. He stressed that in each case, it is for the magistrate to decide, on a case-by-case basis, based on the facts before him or her, whether a man wearing female clothing was for "an improper purpose," and vice versa.
He had emphasised further that the term was used broadly and can apply to an infinite variety of circumstances, but that it does not create such a level of vagueness that a court cannot decide on a case-by-case basis.
At the time of their arraignment, then Chief Magistrate Melissa Robertson had told the appellants that they were "confused" and should "go to church and give their lives to Christ."
They would subsequently commence proceedings before the High Court, seeking a declaration that such statements from the bench disregarded their rights to freedom of thought and religion and violated the constitutional declaration that Guyana is a secular state.
Around the Web