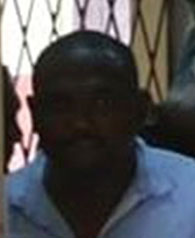 A father of seven, who police say conned a woman out of $5 million by pretending he could get a murder charge against her husband dismissed, was yesterday charged with obtaining money by false pretense.
Magistrate Leron Daly read the charge to Richard Alder, of Lot 85 Section 'C,' Enterprise, East Coast Demerara, when he appeared before her in Georgetown.
It is alleged that between September 20th, 2016 and January 20th, 2017, at Georgetown, Alder, with intent to defraud, obtained $5 million from Nicola Duggan by falsely pretending that he was in a position to have the case of Robert Benn, who is charged with the murder of Colin Perreira, dismissed at the Georgetown Magistrates' Courts.
Alder denied the allegation.
An application for bail was then made by Alder's attorney, Keavon Bess, who stated that he found it strange that his client was charged and the complainant was not.
There was no objection to bail by police prosecutor Sanj Singh. He, however, noted that there is an ongoing investigation relating to a caution statement given by the defendant to the police, where he made mention of cocaine and not money.
Having heard from both sides, Magistrate Daly then granted the accused his release on $200,000 bail and adjourned the matter until July 20th.
On February 7th, 2017, Benn was committed to stand trial by Magistrate Dylon Bess for the murder of Perreira, who was fatally shot on August 23rd, 2016, at Georgetown. It had been alleged by police that he shot both Perreira and Perreira's companion, Gailann Chacon, as they tried to turn their vehicle on his driveway.
Around the Web