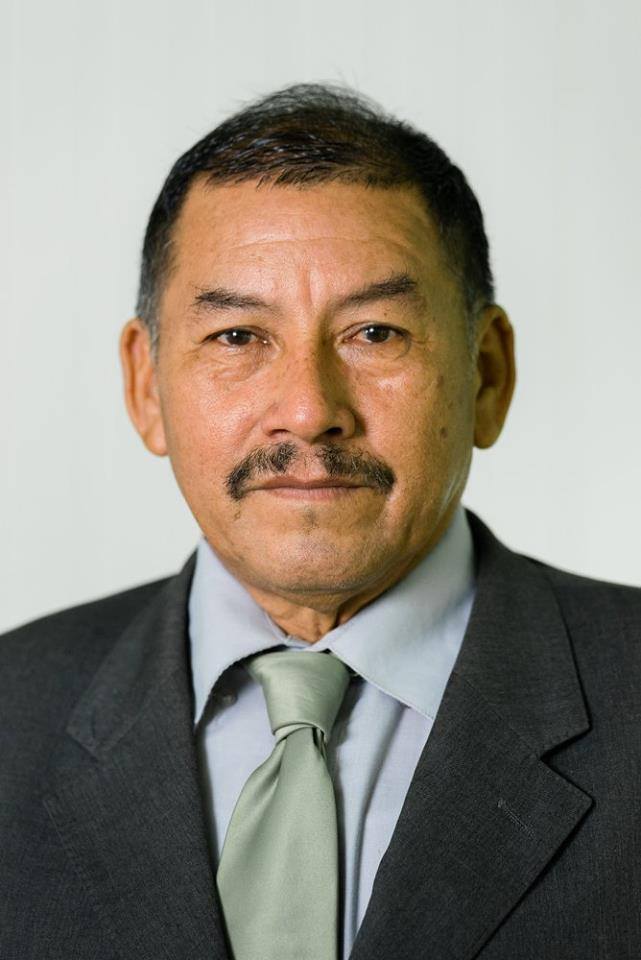 With close to 40,000 indigenous youths unemployed, Minister of Indigenous Peoples' Affairs Sydney Allicock says the review of the Hinterland Employment and Youth Services (HEYS) project and other developmental activities in hinterland regions is part of the efforts to improve them to help young people and other beneficiaries. 
In an interview, Allicock and Minister in the Ministry of Indigenous Peoples' Affairs Valerie Garrido-Lowe told Stabroek News that the HEYS project, for which the one-year programme for the second cohort is due to end in July, has seen a measure of success and some drop outs. "Close to 4,000 youths are covered under the HEYS programme in 215 villages, but we still have close to 40,000 indigenous youths who are unemployed. We have a far way yet to go," he said.
HEYS' main objective, Allicock said, is to break the dependency syndrome that Indigenous Peoples had become accustomed to and to focus on empowering them with skills to create jobs through training and investments. 
"We wanted young people, particularly between 16 and 35 years, to take a more hands on approach in development, to have them rounded in skills that are appropriate to their environment to achieve the 'Green State,' to engage in projects that are sustainable in their communities and to build confidence in them as leaders, policy makers and negotiators."
While the ministry would have liked a 100 per cent success rate in the programme, he said, the lack of support due to poor leadership in some communities has caused some young people to drop out. 
Garrido-Lowe, under whose portfolio the project falls, said that 15 to 20 youths in each village take part in the project in which six months is dedicated to class room training and field work and the other six months is centred on business development.
In the second cohort, which is now wrapping up, she said, over 300 small and micro businesses have been set up in Region One (Barima/Waini); 128 in Region Seven (Upper Cuyuni/Upper Mazaruni); 141 in Region Eight (Potaro/Siparuni); 300 in Region Nine (Upper Essequibo/Upper Takutu); and 300 in and regions Two, Three, Four, Five, Six and Ten.
In the 2016 to 2017 year of the project, she said, 245 young people got involved in small and micro businesses; a total of 189 in regions Two, Three, Four, Five, Six and Ten; 56 in Region Seven; 74 in Region Eight; and 108 in Region Nine.
Garrido-Lowe added that the programme is helping many youths escape the cycle of poverty, which they were born into, by turning over the profits they gained from their $50,000 investment into a micro or small business. The participants are provided with a monthly $30,000 stipend while they undergo training and $50,000 in seed capital for their investment during the development phase of the programme.
In many instances, they have been given parental support, where a parent may provide a shed for a small shop, land for farming or build pens for poultry rearing.
"Young people, who used to escape farming," Garrido-Lowe said, "are going right back to planting and selling greens. One of the biggest block makers in Wakapao in Region Two, who is supplying blocks to riverain communities, came out of HEYS."
"We have great success stories coming out of the HEYS. Some came together to buy a power saw and are now cutting wood. It is only a $50,000 grant but they saved from the $30,000 allowance to do business. The chain-saw project is to supply wooden materials for homes and to build tables and chairs in the villages. They can even bid for $5 million contracts to provide furniture. That is only from the first cohort."
Last month, Garrido-Lowe was at Haimaruni, a community away from the more active areas of Santa Rosa proper in the Moruca sub region of Region One. She said two girls from the area used their capital and savings to invest in a bakery. Their father built the needed shelves with the materials the girls bought.
"That is parental support. They are baking and supplying the neighbourhood with fresh loaves, salara and buns. Down by the Haimaruni Creek is a small shop set up by a participants from the HEYS second cohort. The bakery and the shop came out of the idea that there were none of these in the Haimaruni Creek. People go there to swim and the people want snacks. Before reaching the creek there is a one acre farm being planted by yet another HEYS participant," the junior minister explained.
Participants in the HEYS project do not start at a particular level. "We start at the level they understand and we develop from there. In Red Creek, we had young people—they do not know to even write their names. That is one village where HEYS facilitators had to teach the people to read and write," Garrido-Lowe stated. "We have had an instance where young miners in Port Kaituma had heard about the HEYS project and they came out of the mines to join the project so they could learn and open their own businesses," she added.
Many in the programme include school drop outs and teenage mothers. From the first cohort, Garrido-Lowe said that some young people left their businesses in the care of their parents and have gone on to higher learning in Georgetown, where the profits from the business is now helping to sustain them in the city.
"HEYS is one of government's biggest youth programmes that government supports in the hinterland. If hinterland people say that government does not care, that is not right. We cared so much that they get $30,000 to assist them while training. They get free training and resource kits plus a grant. That is investment in youth," Garrido-Lowe said.  
Around the Web