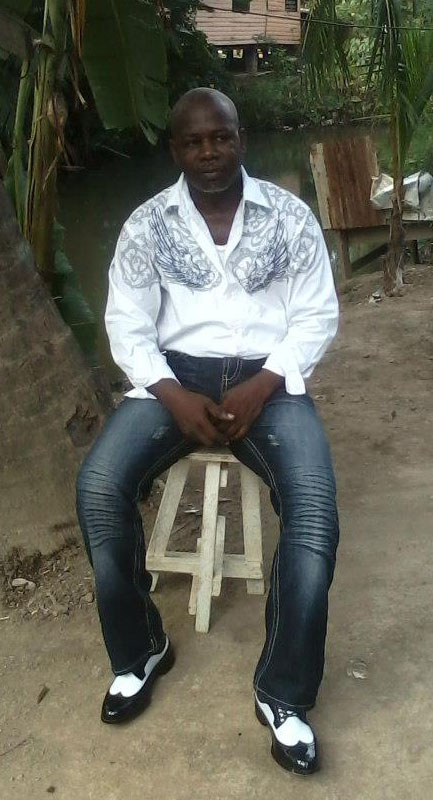 If you were a regular visitor to the zoo in the Botanical Gardens, you would have noticed the decrepit-looking pens in which some of the animals were kept, but as of recent your eyes could not have missed the sprucing-up of those very pens and other areas which has given the zoo a colourful and cheerful atmosphere.
The man behind the brush that brought about the welcome change is Colin Nedd, a self-taught artist, who, despite the many struggles he has endured, has held on to his paintbrush for dear life as painting was all he wanted to do. His brush has created a series of realistic murals on the walls of the buildings housing wildlife in the zoo. The murals not only spruce up the zoo but also serves as an educational tool as students and visitors are now able to learn the names of cats and primates in Guyana.
Like many artists in Guyana, Nedd is not adequately compensated for his work and there are times when he is cheated, but for a man who creates wonders with his brush, putting his artistic skills on the shelf is something he has never considered.
"I would say it was my destiny to become an artist," Nedd told the Sunday Stabroek in a recent interview.
He won his first competition at the age of 10, while attending the St Aloysius RC School and it was the then minister of education Shirley Field-Ridley who presented him with the prize and Nedd remembers that it was a camera.
He recalled that he was in secondary school when he saw a notice to become an apprentice at the Port Mourant Training Centre and thinking that this might be an opportunity to explore the art that was boiling over in him he signed up. He was accepted and he left secondary school with the intention of following his dream of becoming an artist.
It did not turn out quite the way he had imagined, but Nedd said he does not regret that move because in the end he learnt a trade and he got five years' experience as an apprentice and also attended the Government Technical Institute as part of the training. While he did agricultural mechanics he excelled in technology and engineering drawings.
And maybe Nedd took that direction because even though he liked Technical Drawing and had a distinction in his school for the subject he was not selected by the subject teacher, in fact he said he was the only person not selected, to write the College of Preceptors examination.
After his training he worked as a draughtsman on the East Bank Berbice Road project with GuyConstruct doing construction, engineering and architectural drawings.
At the end of his apprenticeship, Nedd said, he "diverted back" to art and he started working with his father who was artist at the time. He shared that his father was more into sign painting and so at a very young age he excelled at art more than his father did but that made little difference since he was the child.
"Even though I would do most of the work when it came to pay time he would not divide the money equally and by then I had a young family to support. But even though I wanted to branch off I didn't have the guts to tell him," he said, shaking his head.
However, the opportunity came when he met a friend who was overwhelmed by the sheer volume of work he got in the area of art and the two formed a partnership much to the dismay of his father.
Challenges 
After some time, Nedd decided to move with his family to Georgetown where he figured the grass was greener and he like other artists pounded the streets and visited banks and other offices trying to get their pieces sold. Quite a few his pieces were sold, and he also joined other artists to hold exhibitions on the Avenue of the Republic.
"A lot of people have seen my work and have pieces I did but never knew the man behind those pieces. There are a lot of challenges and part of it is that art is expensive and only those who could afford it can buy a painting for a certain price," Nedd said.
He stated that the majority of artists only make money when tourists are in Guyana and many times they work as 'pot boilers', meaning that they work just to put food on the table for their families. He no longer does paintings without them being commissioned because in the past when he painted without being commissioned he lost a lot when the painting got damaged and was never sold.
As to what sets him apart from other artists, Nedd said that many of them do not do portraits, which are more technical, but he does them and they are more expensive because of the details needed to make them accurate. His ability to produce lifelike portraits of people and animals, Nedd said, has seen him receiving compliments on the detail and high quality of his work.
He does not believe in abstract painting; he believes that what defines an artist is that they must be able to bring out what they see, and someone must be able to identify what they painted.
"I might be wrong, but I don't hold abstract as part of art. I can't see the sense in it but then I never studied art at university or at the Burrowes School of Art. I am a self-taught artist and I believe those guys who were masters in the early days had to be taught by someone and I believe it was the master himself, God himself."
Over the years Nedd he has done advertisements on the Canje Bridge, the Georgetown seawall, Blairmont, and sports complex grounds among others. His work 'Life of the Lily' was purchased for the National Collection at Castellani House. He has participated in exhibitions at the Hotel Tower, Santa Rosa Festival and Carifesta 92 held in Trinidad and he also attended an international art exhibit in Anguilla where he got the opportunity to interact with artists from around the world.
"I admire the Rembrandt style of painting portraits. This has influenced my style which I consider to be a mixture of realism and expressionism, inspired by my Christian understanding of symbols and signs," Nedd said.
Nedd and his wife have five children together and they will celebrate their 34th wedding anniversary in October. None of his children followed in his footsteps and he said sometimes he wonders why but there is still hope as a grandchild has shown an inclination and he will help wherever possible.
"I consider myself a self-taught artist using the traditional method of painting with brush and oils, always relying on the Master Artist [God] for guidance," Nedd said.
Around the Web