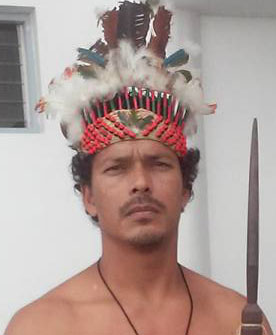 After the National Toshaos Council (NTC) Conference this month, outgoing NTC Vice-Chairman Lenox Shuman and his partners will begin to build, network and put structures in place to establish a political party that will be grounded in Indigenous Peoples' communities.
"We are not going to move the NTC into a political sphere. The intent was not to develop a neutrality statement and just leave it as a document. It would be a betrayal of the process, a betrayal of the people to develop a statement and turn right around and betray the essence of the statement. That is why we are not going to form a party any time before the conference or while I continue to be the Vice-Chairman of the NTC," Shuman, 44, told the Sunday Stabroek in an interview on Friday.
On the idea behind the formation of a party seeking the Amerindian vote, Shuman, who made the announcement on his Facebook page, said, "We are very, very aware that the Indigenous vote is a swing vote. It is time that we actually start bargaining for what is right for us. We have seen a Neighbourhood Demo-cratic Council being gazetted without consulting the people. We have seen Minister of Indigenous Peoples' Affairs Sidney Allicock going into places like Micobie and Campbelltown and trying to convince those communities to come into the fold of a township. Those are violations of the people's rights. We are not going to subscribe to that anymore."
The idea to form a party, he said, was discussed in 2015 around an NTC report, which noted that government was not doing enough to address the rights of Indigenous Peoples and Indigenous Peoples not having their rights respected.
Since 2015, they have spoken about it among themselves and in discussions with members of some Indigenous
communities. "The idea continuously came up," he said.
When the subject came up again at a recent gathering, Shuman said, they had been talking about it but going nowhere and he suggested that they throw it out in the public domain for feedback.
Once the proposal was posted on Facebook, he added, the response was "very positive" in Indigenous communities and in the wider society.
In their discussions, he said, they noted that ethnic politics has torn the country apart and done it a disservice. "While our base will be indigenous, we will not be an Indigenous Peoples' party. It has to have broad-based support because we are not into ethnic politics."
In interactions, he said, people have expressed weariness of the People's National Congress Reform (PNCR) and the People's Progressive Party (PPP) and said they we looking for "a party that could bring a bit of centre to Guyana's political landscape."
'Balance'
Asked how the proposed party would resist potential offers by either the PNCR or PPP for coalitions, Shuman said discussions and decisions on a non-coalescing clause as one of the principles of the party would have to be made. "A non-(coalescing) clause, until there is constitutional reform for post-elections coalitions, then that is something that could be visited," he noted.
Asked if going into a coalition post-election would not defeat the purpose of being a centrist party, Shuman said, "We are very well aware of all the parties that have been absorbed in the larger parties. That is why a (coalescing) aspect is not in our interest. If the political landscape is in need of it, then that is an issue we will have to have serious discussions on when we start developing our constitution. Immediately, we are not looking at [coalescing] or being absorbed by anyone, or overridden by anyone."
Another discussion, he said, is to vote with one's conscience as a core principle of the party. "Not just because a party head decides that we are not going to support something, then no one supports it," he noted.
Immediately, he said, they are looking for young, vibrant people who are not power hungry and who are looking out for the best interest of Indigenous Peoples and Guyana. "We have seen what the other people who want to exploit the natural resources have done in hinterland regions. What is good for Indigenous Peoples is good for Guyana," he said.
Asked whether he and his partners are prepared for the challenges that could likely be thrown their way by the PNCR and PPP, which enjoy political support from Indigenous communities, Shuman said, "I really don't know if we are prepared. We know the challenges we face as a people. We are prepared to take those at the highest level."
He added, "We don't have the pockets like the big parties do but we live in the communities that are affected by a whole host of things. We do not have to expend large amount of resources to get feedback on the issues."
Asked how many seats in the Parliament the party is looking at, he said, "We have not run the numbers but it would be significant enough that the two major parties would have to understand that they have been wrong."
Even if they do not get all the Indigenous support and they secure between two to five seats, he said, "To us that would be the fulcrum on which power is balanced compared to just submitting to this majority system and simply take what they give continuously and consistently. We could be that balance."
On comments that a party grounded in Indigenous Peoples' support will be racist and further divide the country along ethnic lines, Shuman disagreed. "When you look at someone of African descent, you automatically look at the PNC, when you look at Indo Guyanese, you automatically think PPP. When you look at the Indigenous person, you have no idea where they are going."
An indigenous centric party, he said, would be capable of bridging that divide and uniting the country. "Both parties have failed miserably at doing that," he charged.
Government developing a ministry dedicated to social cohesion, he said, means that problems of ethnicity were permitted go on for so long and to get so big that a dedicated ministry to address the problems was set up. "This current administration is simply using that ministry as a guise. They have no commitment to actually addressing social cohesion," he, however, said.
Asked about his plans to return to Canada yet still play a role in the formation of the party, Shuman said it was an issue he was discussing with members of his family as he is committed to their well-being, which he will not sacrifice for anything. The education system at Pakuri ,where he was Toshao, he said, had been failing his children. If his wife and children are supportive, he said, they will find a formula that is going to work for the well-being of his family.
Shuman began his secondary education at North Georgetown Secondary School and finished at Jarvis Collegiate Institute in Toronto, Canada. He then attended Sault College, Centennial College and finally Confederation College, where he graduated with a business diploma and a commercial pilot's licence.
With his family returning to Canada in the interim "and by me not contesting for a second term (at Pakuri)," he said, "it is a calculation that I hope pays off for the country. It means that I am now free to engage politically."
He would like to facilitate the growth of the party, he said, "and see where the chips fall. If at some point, I fall into a position of leadership or otherwise, then I wouldn't have an issue in taking that responsibility."
Around the Web